The sound quality of Orion32 is incredible! I very quickly threw my old converters up on eBay and never looked back.
My previous audio interfaces were part of an incumbent fixed hardware and software system that was no longer meeting my needs. I was really tired of the expensive upgrades and poor support and was looking to branch out on both the hardware and software fronts. I stumbled across the Orion 32 because of it had D-SUB input and output, it had dual ADAT in and out which I use for my modular synth setup, and it had the world-renowned Antelope clock — plus the fact that it could stream 32 channels over USB, which was dumbfounding. I soon acquired two Orion 32 units and added MADI cards to enable access to the full 64 channels of I/O. The sound quality is incredible! I very quickly threw my old converters up on eBay and never looked back. I even got rid of my old stand-alone master clock.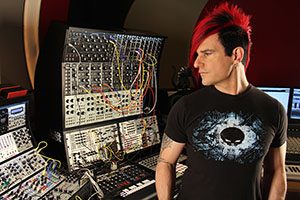 "I handle every aspect of the production from the tracking to mixing to mastering. The Orion32 excels every step of the way, enabling a great workflow and commanding results. The Orion is great for tracking, it's really responsive and sounds great on both top end and low end and latency is really low. I use the Orion's inputs exclusively for everything from guitars to strings to synths. I'm a one man band, so having 64 channels of I/O is great because I can have everything from guitars to synth patched and ready to go at all times. I also leave some of the channels on the Orion set up as inserts for my outboard gear, which lets me patch it into my DAW as easily as I could a plugin.

I jam so many elements into one track that it can be a struggle to try to make everything sound good together. I definitely found that I wasn't wrestling against the interface to try to get my top-end and low-end clarity, which was an improvement over other rigs I had used. It's also great to be able to run any software I can get my hands on with the full 64 channels of pristine I/O from my Orions."
Celldweller is a Detroit, Michigan-based musical project created by multi-instrumentalist artist, producer, songwriter, performer, programmer, and remixer Klayton. Klayton creates a hybrid fusion of digital and organic elements: intricately designed soundscapes that take cues from electronic genres like drum and bass, electro, and dubstep, woven together with aggressive rock/metal and orchestral elements. Celldweller songs have been featured in many films, movie trailers, television shows and video games. Known worldwide for pioneering new sounds and methods for creating his tracks, his music has been heard by millions between internet play and his placements in Film, TV, and Video Games. Among his TV and movie credits are productions such as: A Good Day To Die Hard, Mission: Impossible – Ghost Protocol, Battleship, Iron Man, Spider-Man 2 and 3, CSI, Mr & Mrs Smith.