Eclipse 384: It's the best interface I've used.
This is all I've got now; I used to have racks of stuff. I record vocals, guitar and bass into an Apple MacBook Pro through a signal chain comprising little more than the Antelope Eclipse 384, an API Channel Strip and a Shure microphone.  It's basically my studio all in one box. It's the best interface I've used. I love that everything is right there.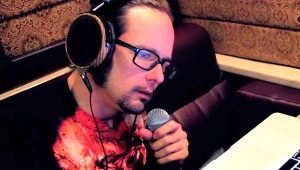 "By utilizing high-grade audio production equipment such as the Antelope Eclipse 384 I'm able to produce release-ready masters right here on the tour bus or the hotel room. The Eclipse is essential, because it gives me everything I need to work on the road and not just make a demo. The stuff I actually do on the road I keep and it sounds great—it's not just a demo that I have to rework or re-record later."
Korn shook up the nu metal world at the end of 2011 when the L.A.-based band released its tenth studio album, "Path of Totality," featuring collaborations with a host of dubstep producers including multiple Grammy Award-winner Skrillex. Now, Korn frontman Jonathan Davis is doubling down on his recent statement that "North American dubstep is the new electronic heavy metal" through a side project, Killbot, and a solo project under his DJ name, J Devil.
Davis, who dusted off his turntables about three years ago and has been performing DJ sets using the moniker J Devil, is a longtime aficionado of electronic dance music (EDM), and has been producing dubstep-influenced remixes for nu metal artists for several years. Having started creating EDM on his laptop "for fun," Davis has now teamed up with dubstep producers and fellow metal-heads Sluggo and Tyler Blue to form Killbot, a "metalstep" collaboration that has signed to Steve Aoki's Dim Mak dance record label and has announced plans to release a four-track EP. There is also a J Devil solo EP in the works.