NOW WITH EVERY SYNERGY CORE INTERFACE
Get Auto-Tune Synergy

1. Purchase and activate any Synergy Core interface: Discrete 4 Synergy Core, Discrete 8 Synergy Core or Orion Studio Synergy Core
2. Get Auto-Tune Synergy and Vocal FX Bundle featuring four all-time vocal studio classics. Upon successful activation of your device, you receive an email with a license code and activation instructions
*BAE-1073MP / LANG-PEQ2 / OPTO 2A / Tubechild670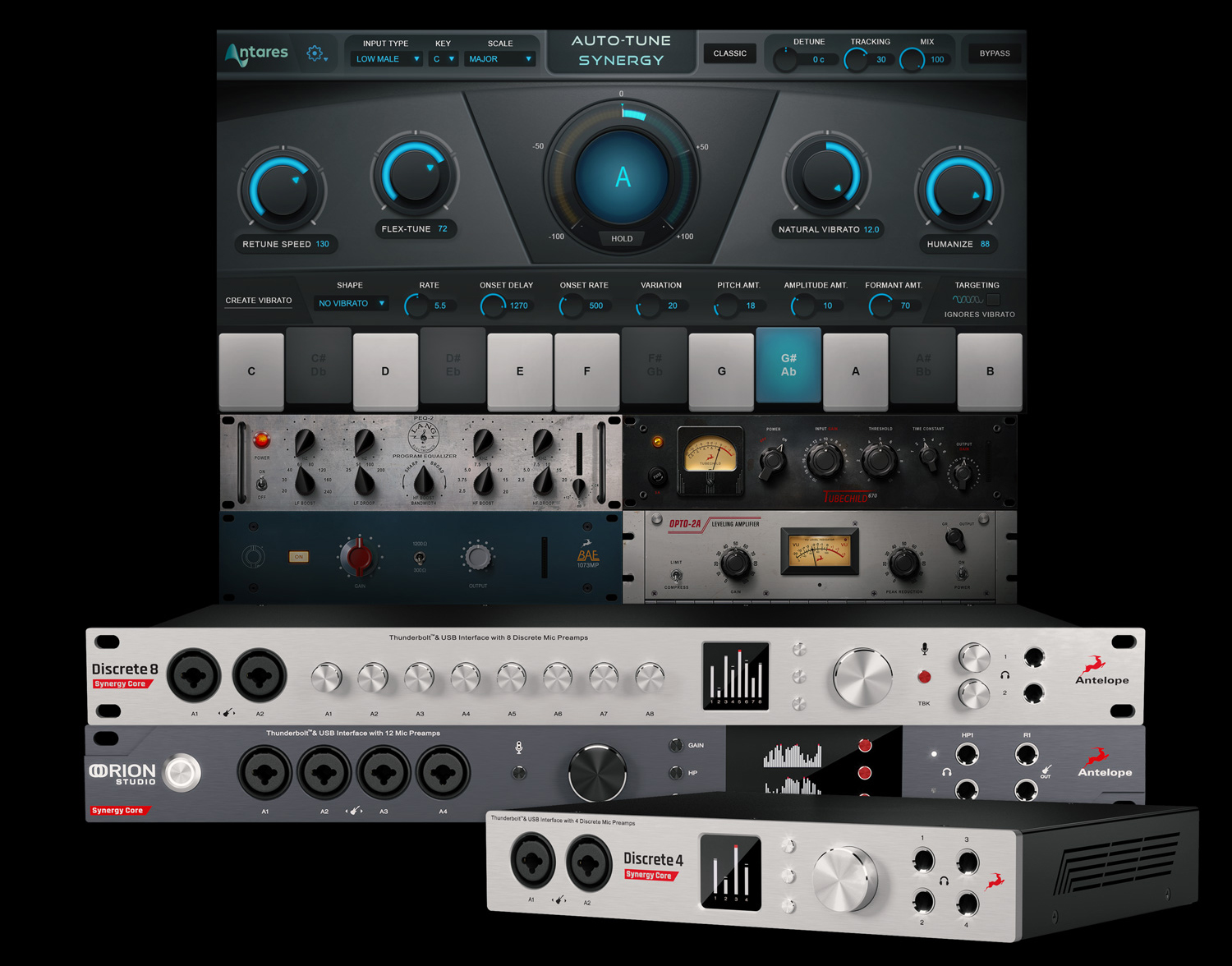 ACTIVATE ANY SYNERGY CORE INTERFACE AND GET
AUTO-TUNE SYNERGY + VOCAL FX BUNDLE FOR FREE

Discrete 4 Synergy Core
• Thunderbolt 2 & USB 2.0 Interface for Mac / Win
• Synergy Core FX engine with 2xDSP & 1xFPGA processors: 4FX Channel Strips with 8 FX slots
• 4 Class-A Discrete Mic Preamps
• 4 | 10 channels of Analog I/O
• 10 | 10 channels of Digital I/O
• 24bit/192kHz AD/DA conversion with 121dB DNR
• 4 Independent Headphone Outs

Discrete 8 Synergy Core
• Thunderbolt 2 & USB 2.0 Interface for Mac / Win
• Synergy Core FX engine with 2xDSP & 1xFPGA processors: 8FX Channel Strips with 8 FX slots
• 8 Class-A Discrete Mic Preamps
• 8 | 14 channels of Analog I/O
• 18 | 18 channels of Digital I/O
• 24bit/192kHz DAC monitor outs with 130dB DNR
• 2 Independent Headphone Outs

Orion Studio Synergy Core
• Thunderbolt 3 & USB 2.0 Interface for Mac / Win
• Synergy Core FX engine with 6xDSP & 2xFPGA processors: 32FX Channel Strips with 8 FX slots
• 12 Discrete Ultra-Linear Mic Preamps with 75dB maximum gain
• 14 | 24 channels of Analog I/O
• 18 | 18 channels of Digital I/O
• 24bit/192kHz DAC monitor outs with 130dB DNR
• Flexible routing matrix acting as a digital patch bay
• Line level Direct-In bypassing the mic preamps circuitry
• 2 Pairs of monitor outs running in A/B and simultaneously WHAT IS SYNERGY CORE?
A breakthrough development, Synergy Core unites the powers of DSP and FPGA processors to form a low-latency FX platform. Enjoy a vast collection of effects and emulations of coveted studio gear by Antelope Audio and third-party developers – in real-time, at any sample rate. Choose from a library of 80+ emulations of mic pres', equalizers, compressors & limiters, modulation, saturation, guitar & bass to suit any workflow in your recording, mixing or mastering projects.
WHAT YOU GET AFTER ACTIVATING
YOUR NEW SYNERGY CORE INTERFACE?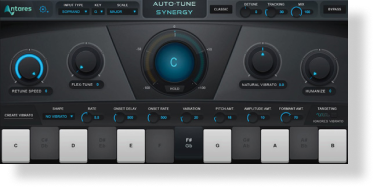 AUTO-TUNE SYNERGY
Auto-Tune Synergy is a professional real-time pitch correction tool with an intuitive interface, designed in collaboration with Antares exclusively for the Antelope audio hardware platform.
Whether you are performing on stage or tracking in the studio, Auto-Tune Synergy's low latency processing allows you to listen to your tuned vocals in real-time without distracting delay. Fine-tune your sound with fully adjustable Retune Speed, Flex-Tune and Humanize parameters, from transparent pitch correction to the iconic Auto-Tune Effect. Also included is the Classic Mode – a much requested return of the celebrated Auto-Tune 5.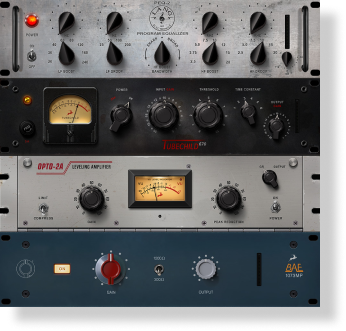 VOCAL FX BUNDLE
BAE1073MP – The most esteemed of British microphone preamps, the BAE1073MP gives an instant studio sheen to any voice passing through it.
LANG-PEQ2 – An all-star equalizer for vocals, the PEQ2 widens the mid-range, tightens the low-end and makes those highs shine.
OPTO-2A – An iconic optical compressor whose warm sound and gentle character make it incredibly pleasant on vocals.
Tubechild670 – The sound of the 'Golden Age of Rock & Roll' – Tubechild670 makes vocals shine in the mix like nothing else with its thick and natural sound.