Zen Studio+ comes with our growing library of hardware-based FPGA effects
Zen Studio+ comes with a growing arsenal of vintage FPGA-based effects, including accurately modeled EQs, compressors, guitar amps and cabinets.
The key to the Zen Studio+ modeling engine is its custom FPGA chip. This proprietary technology makes the interface much faster and more powerful than competing devices.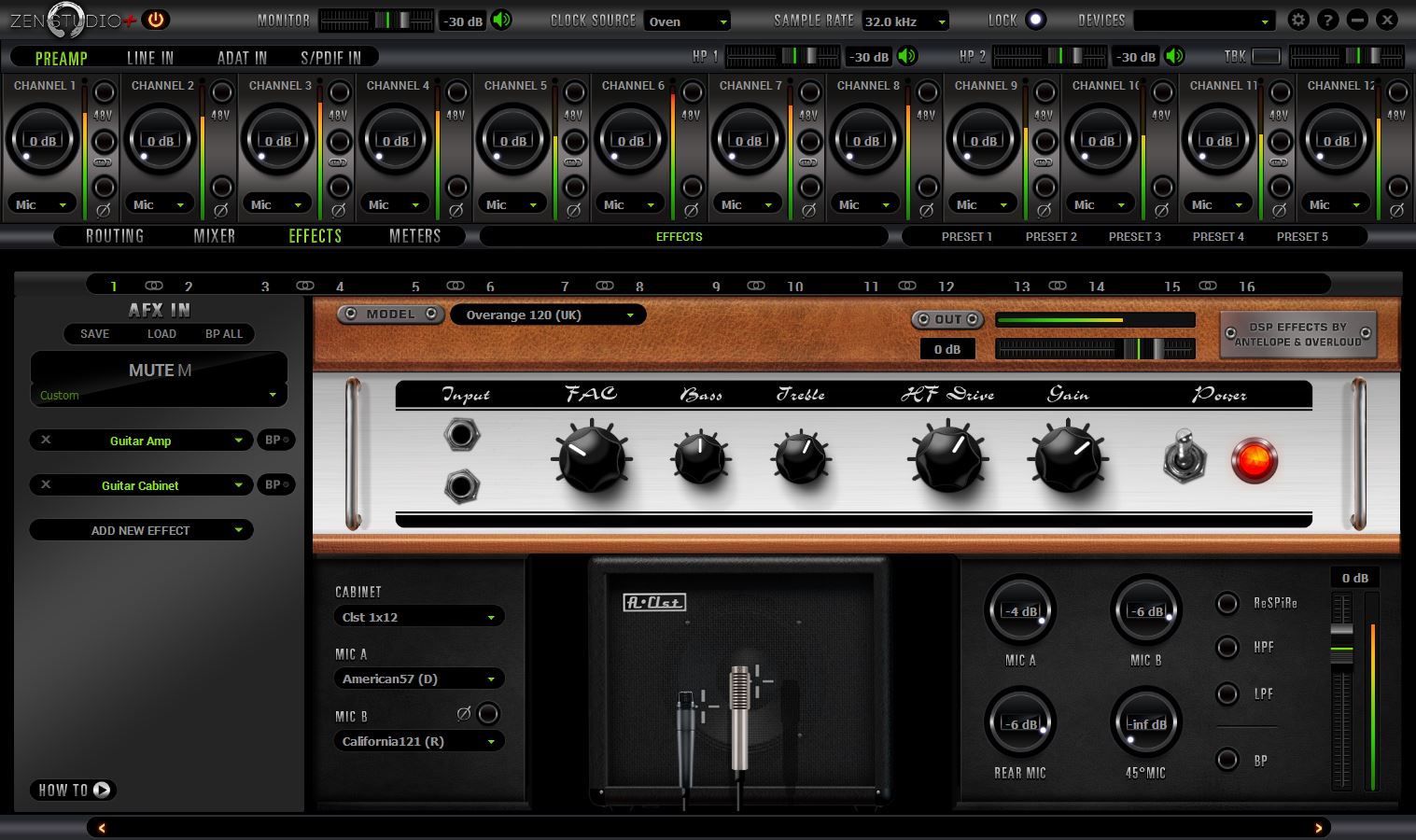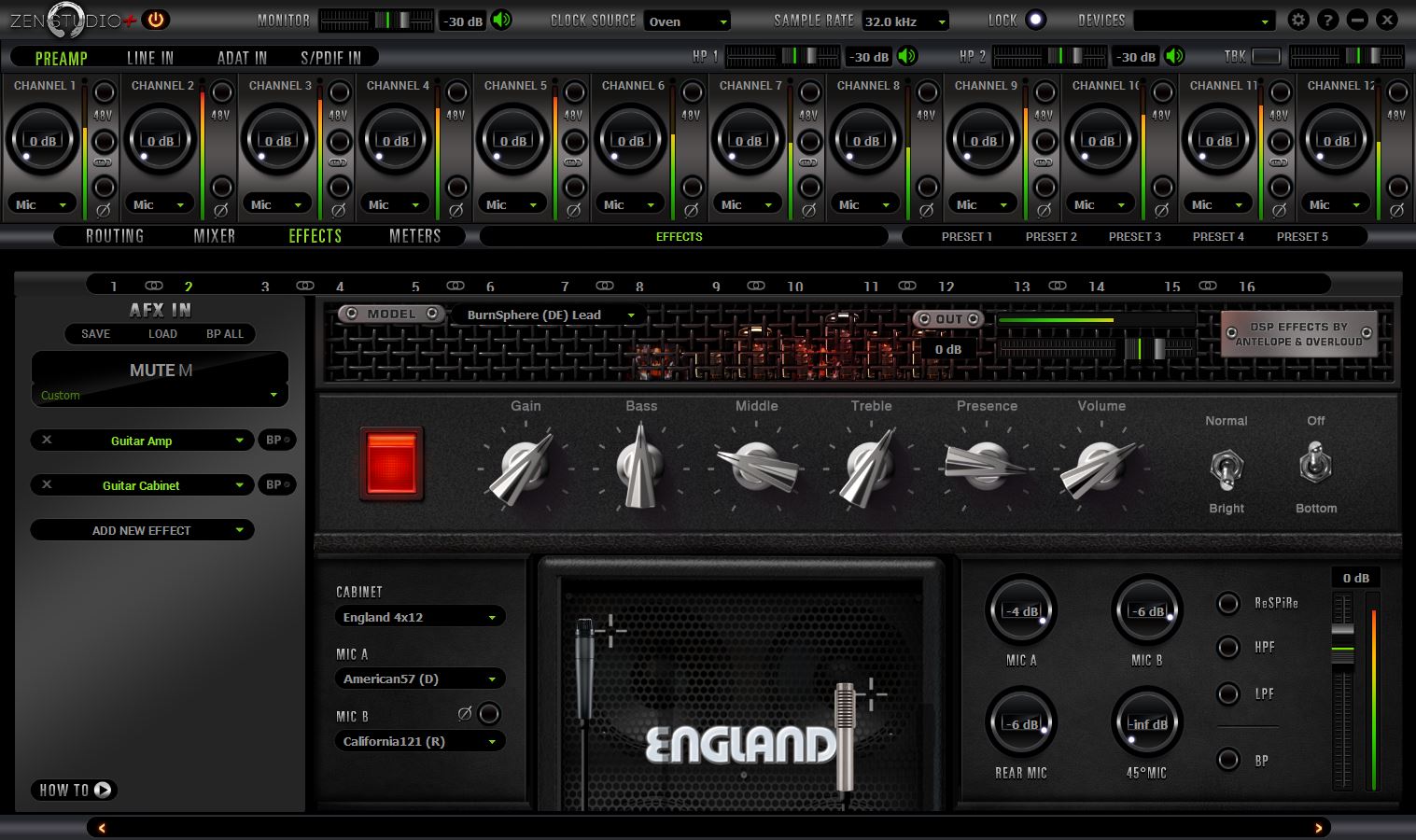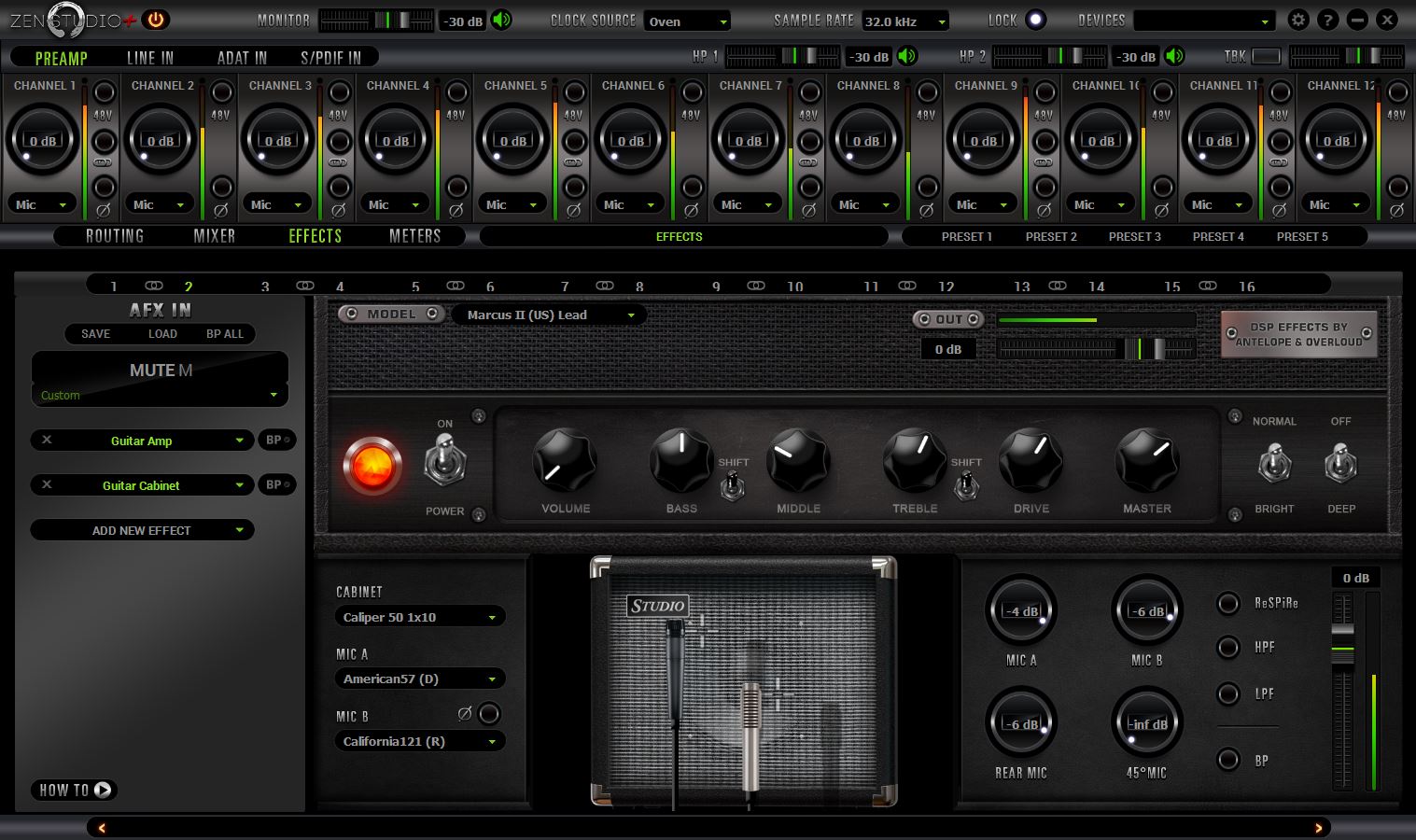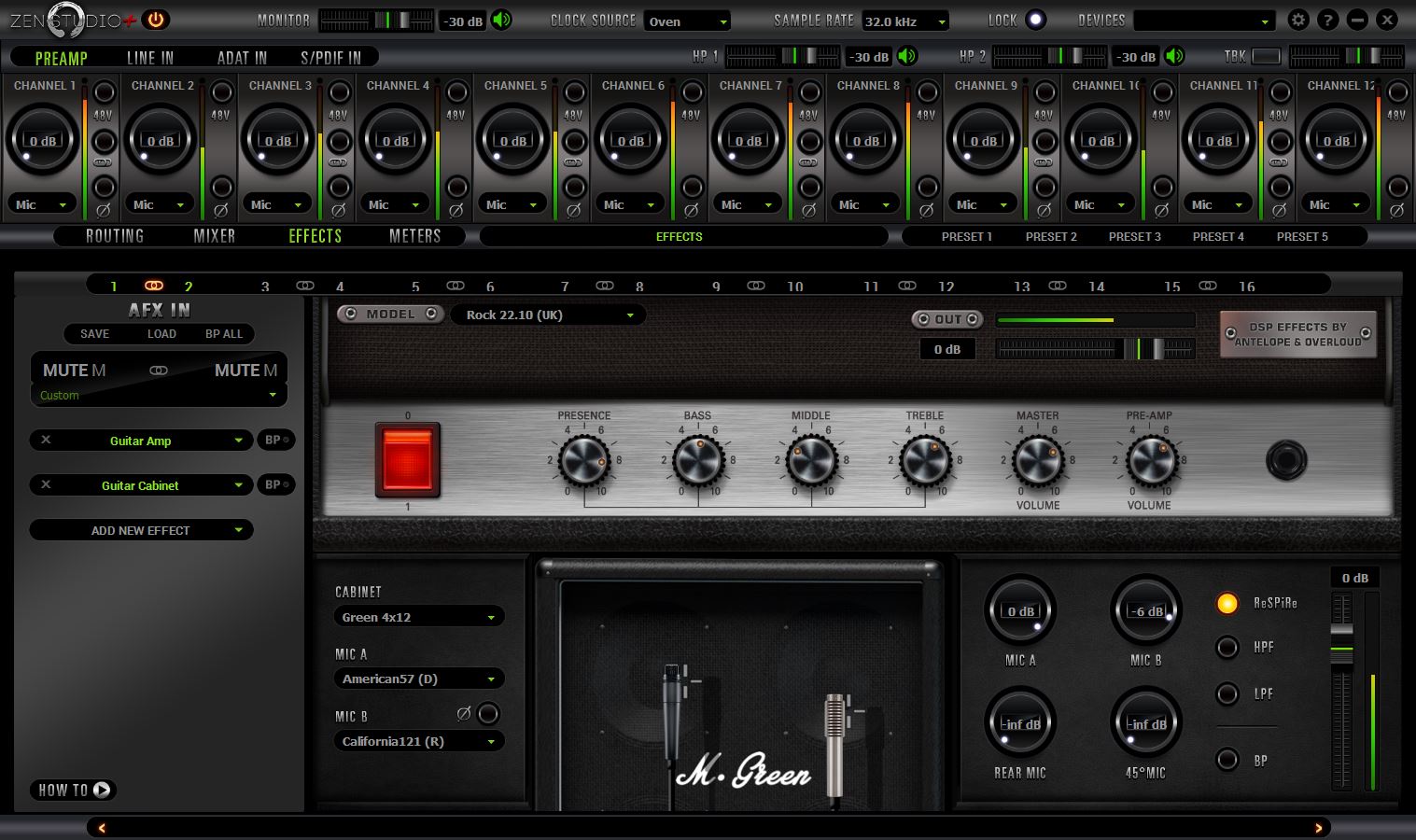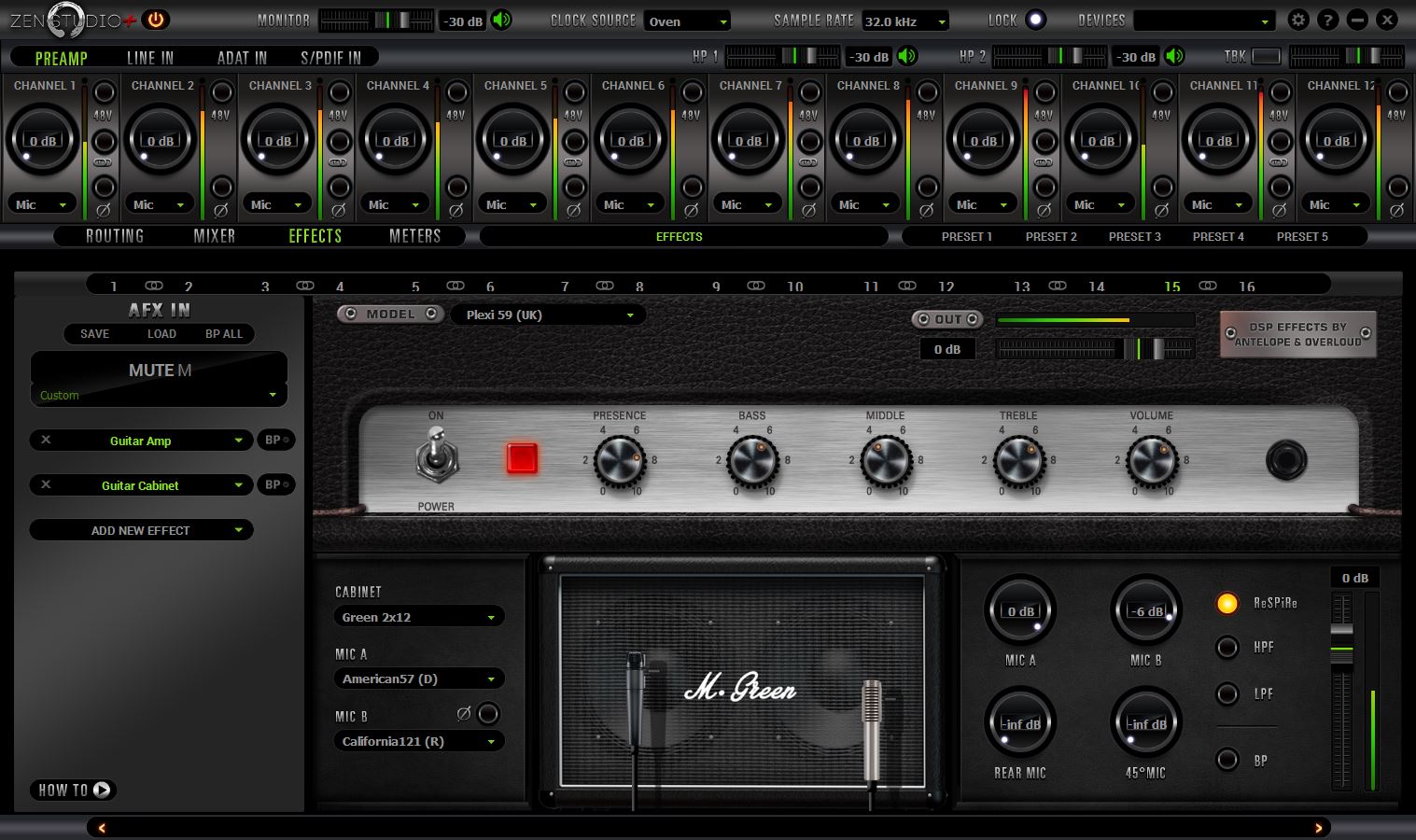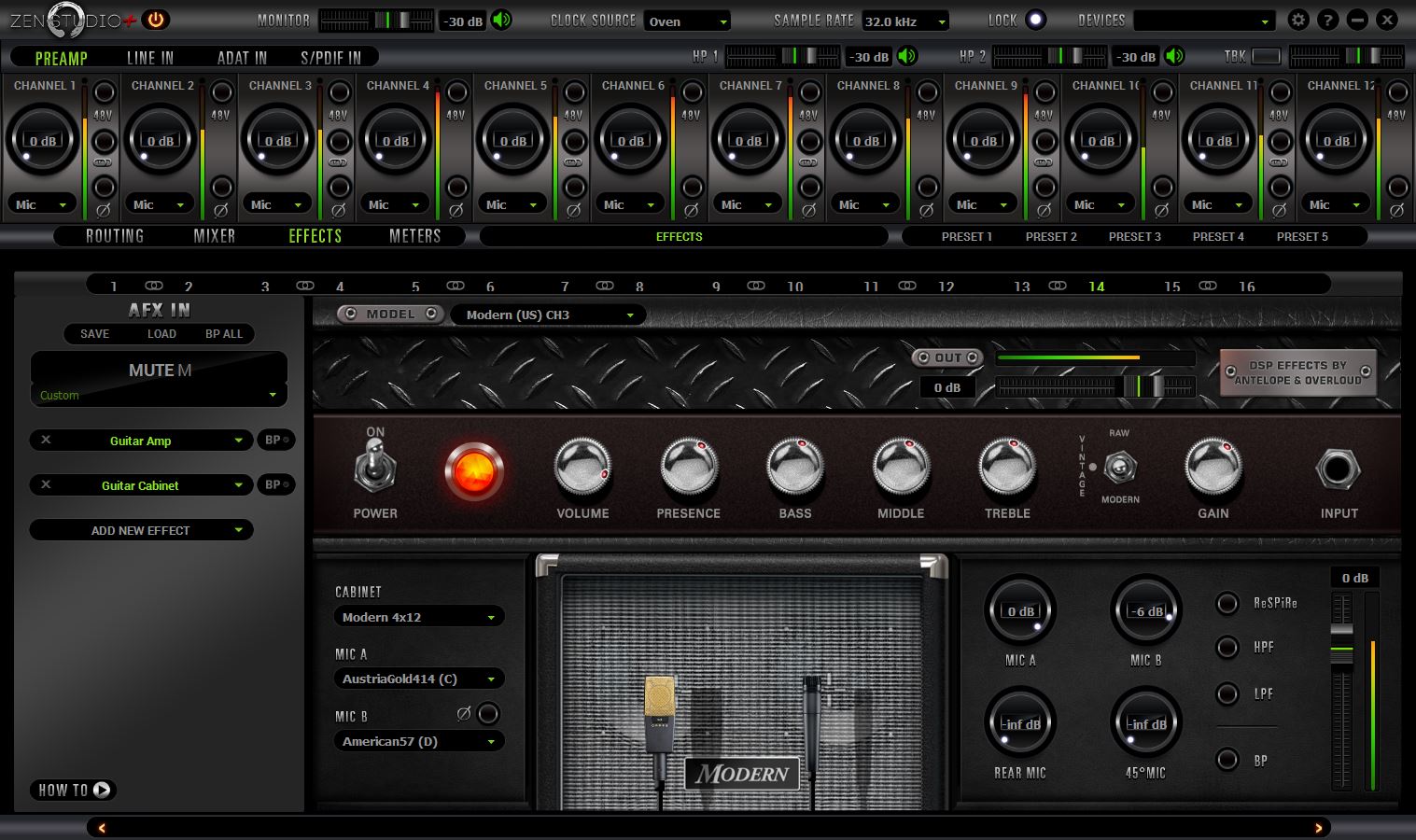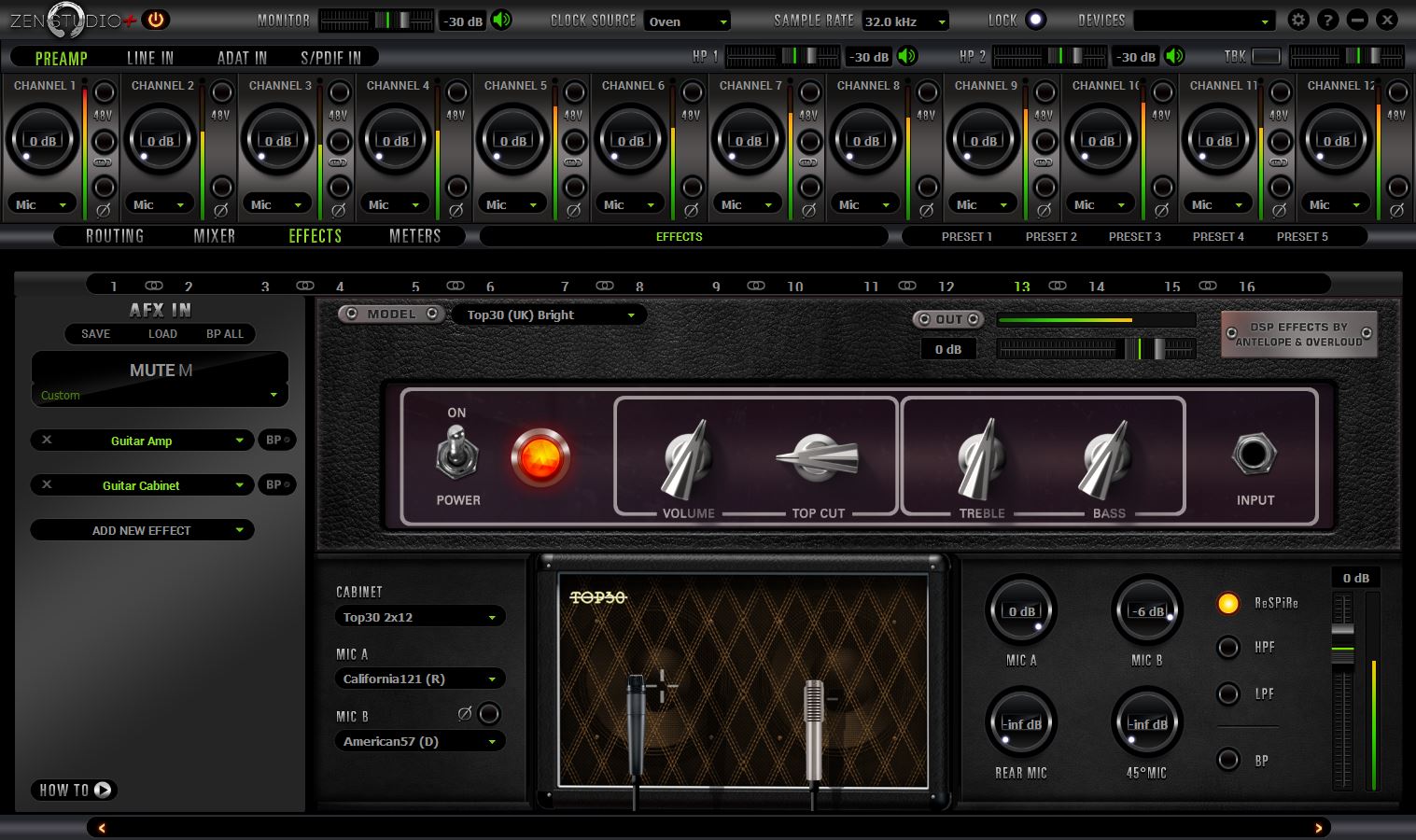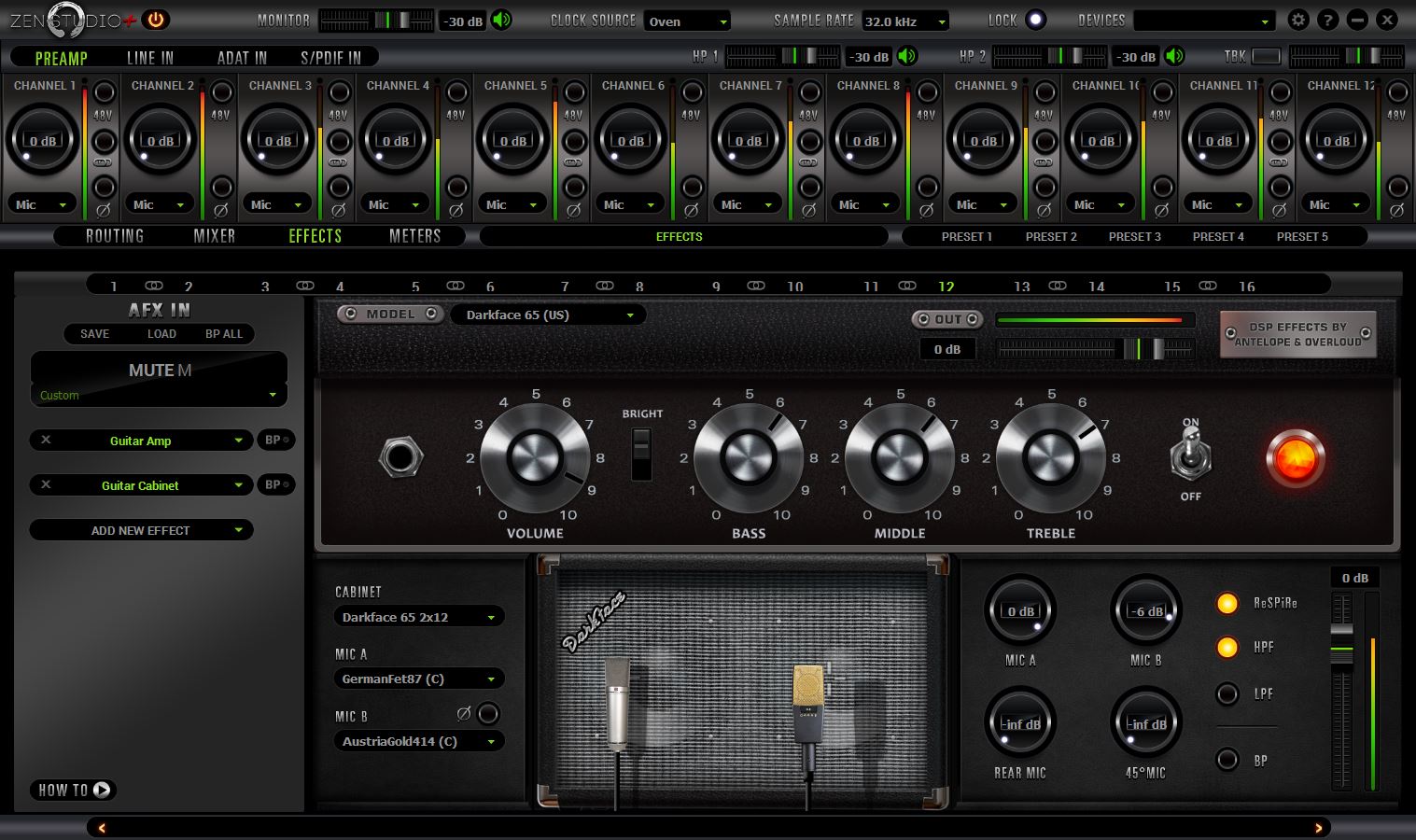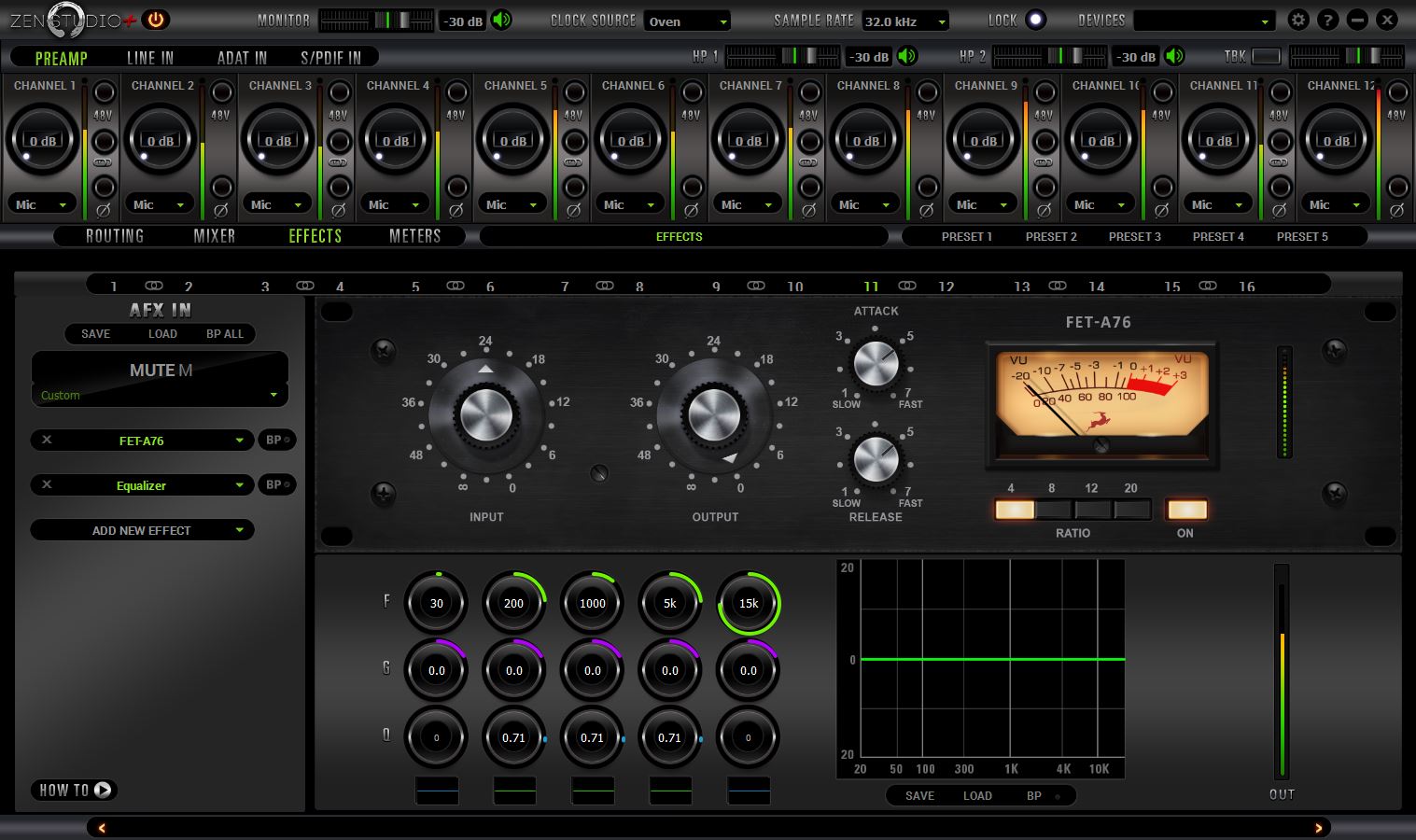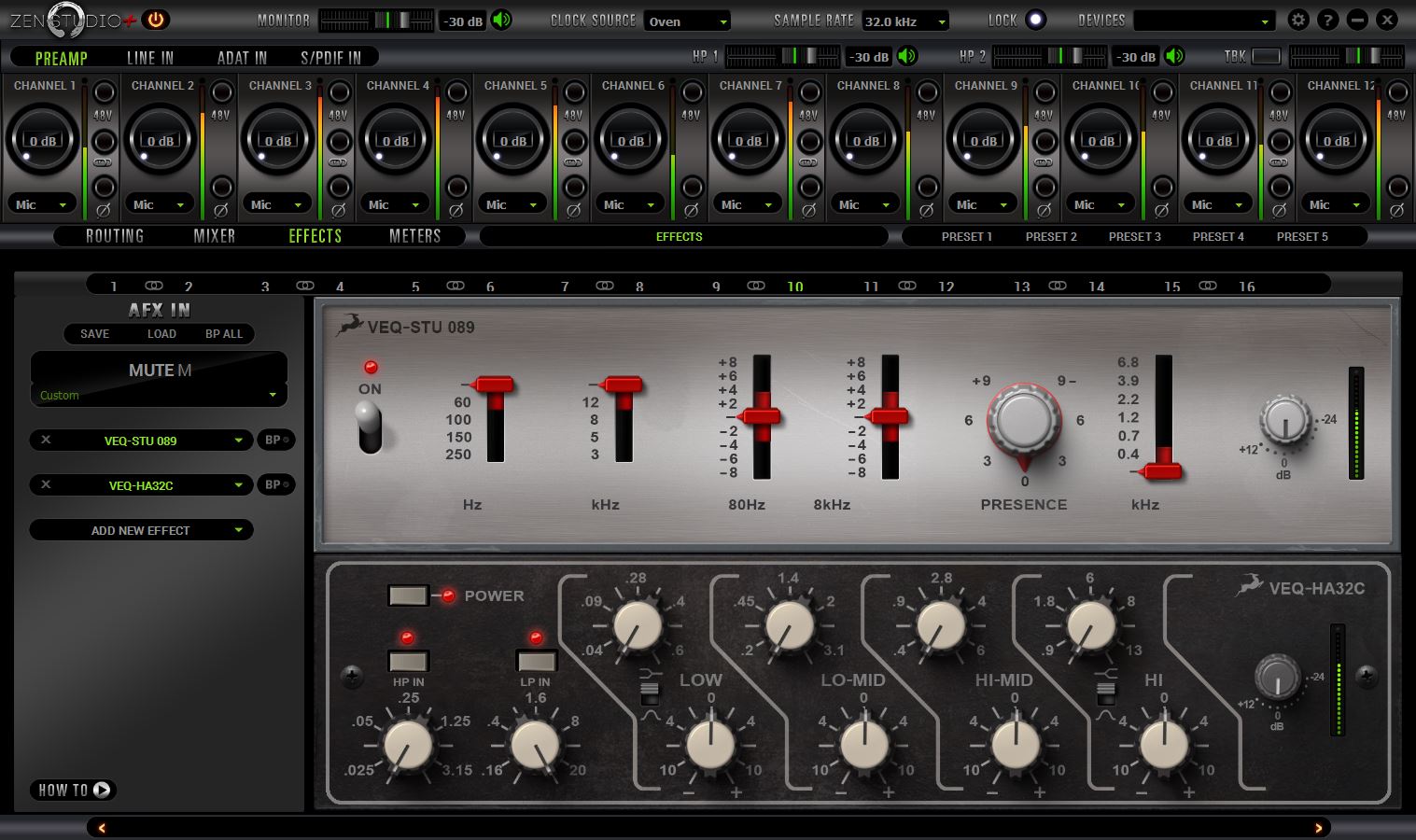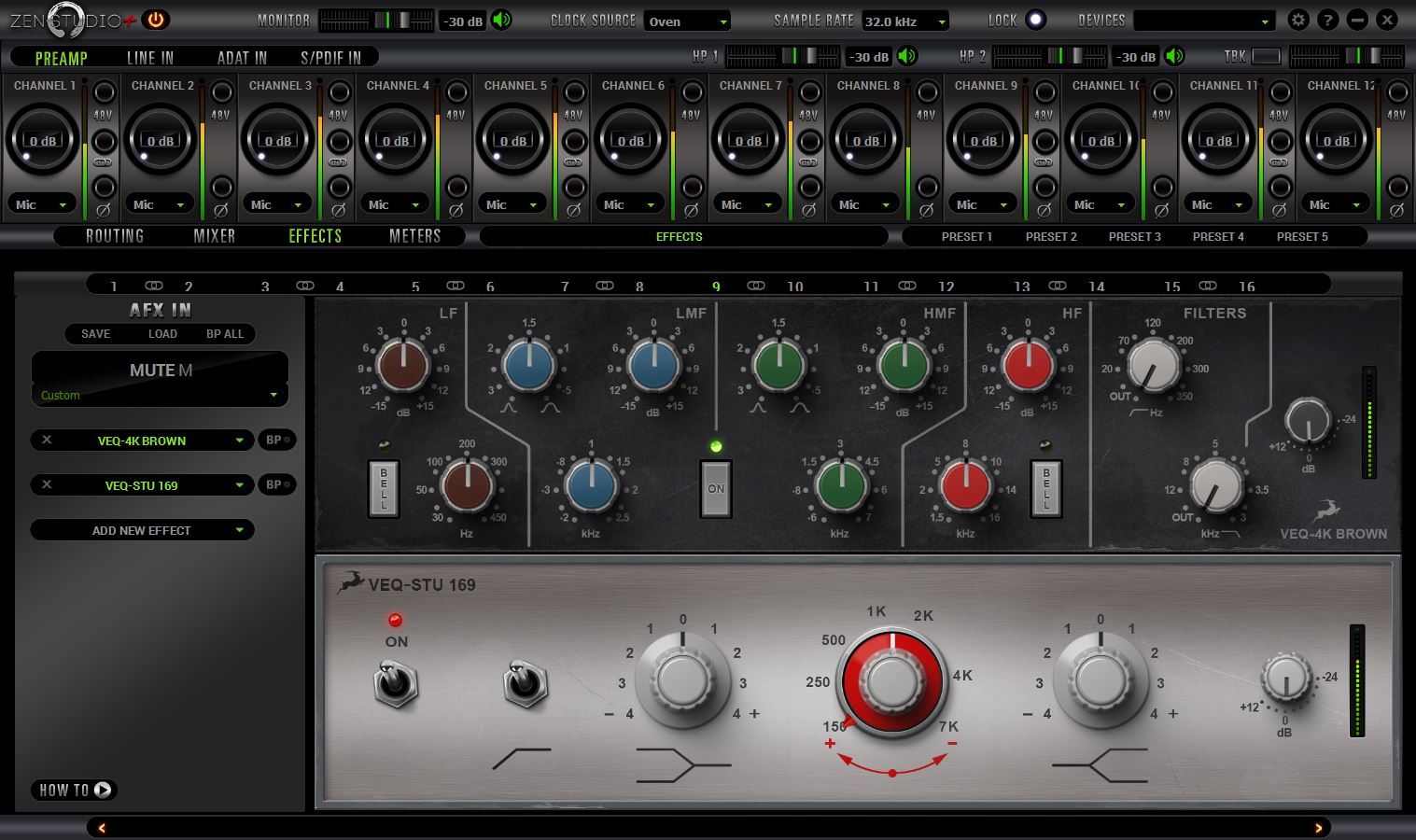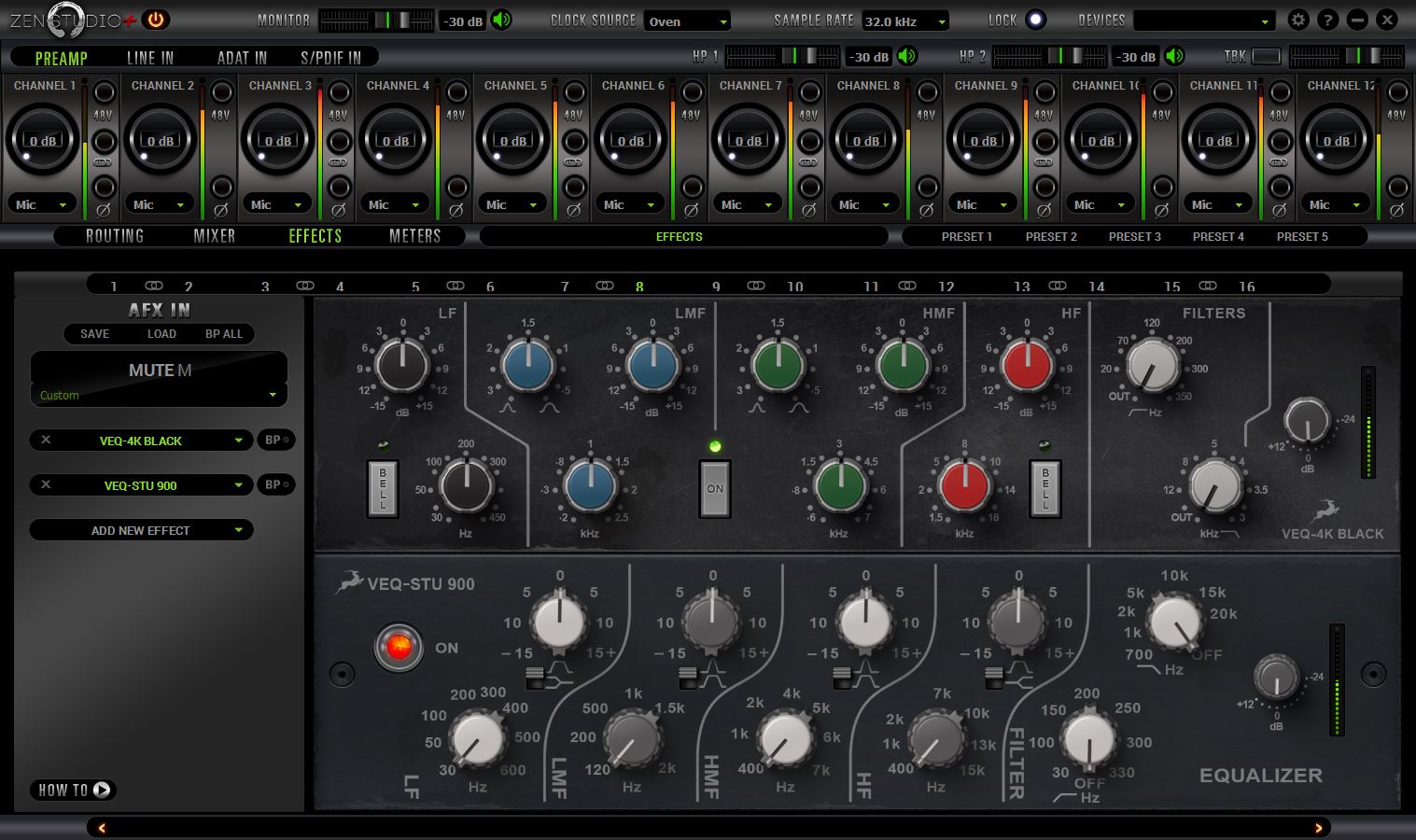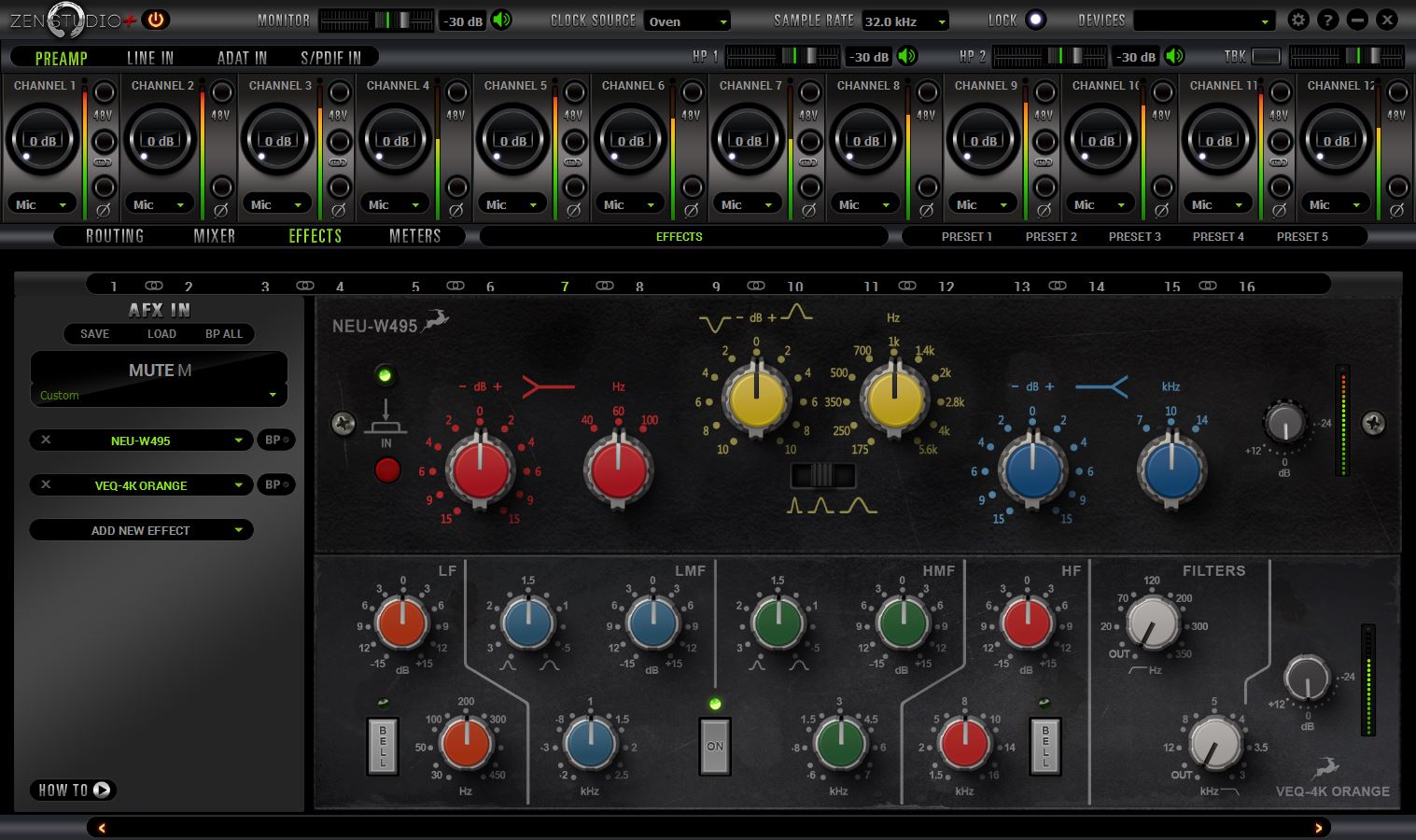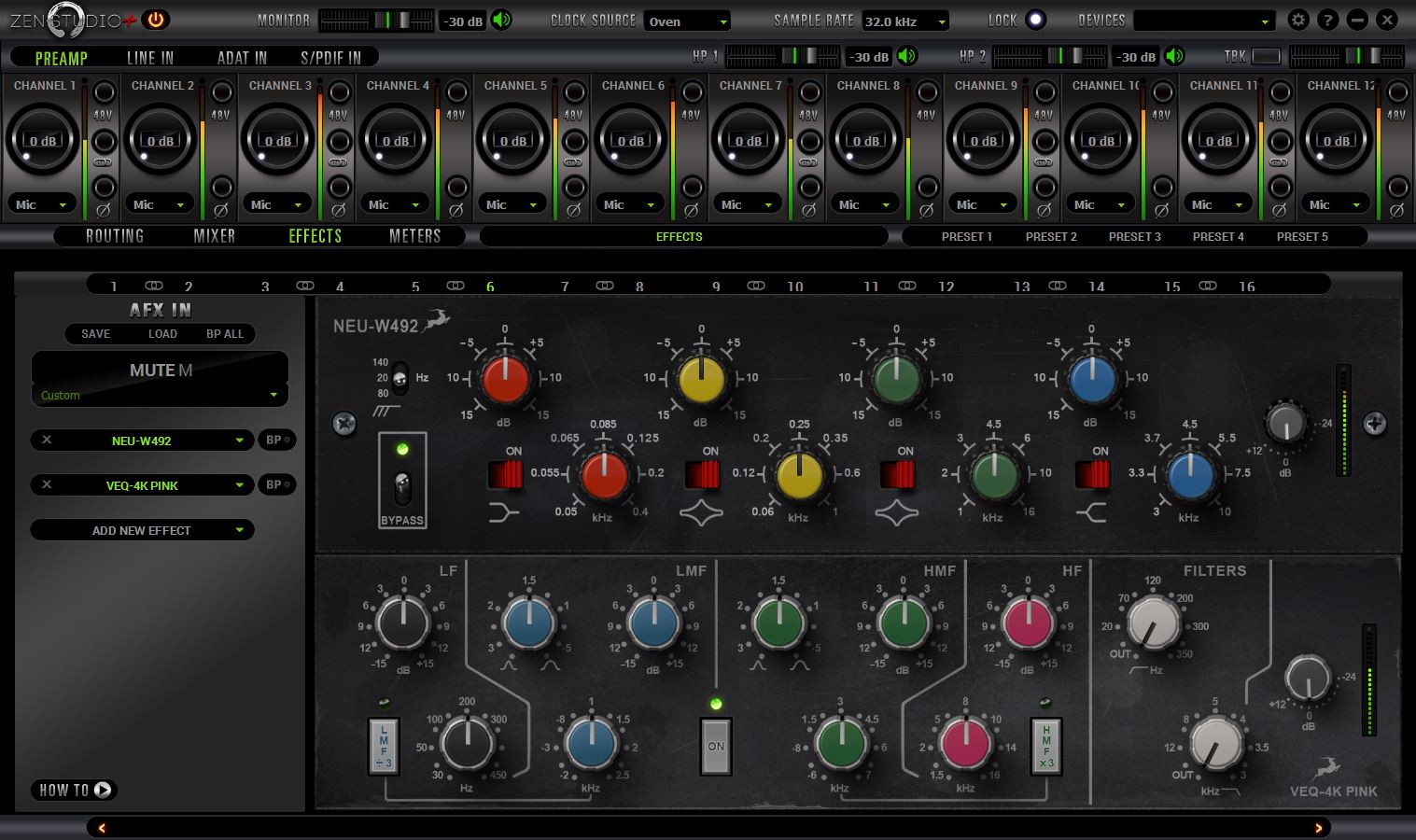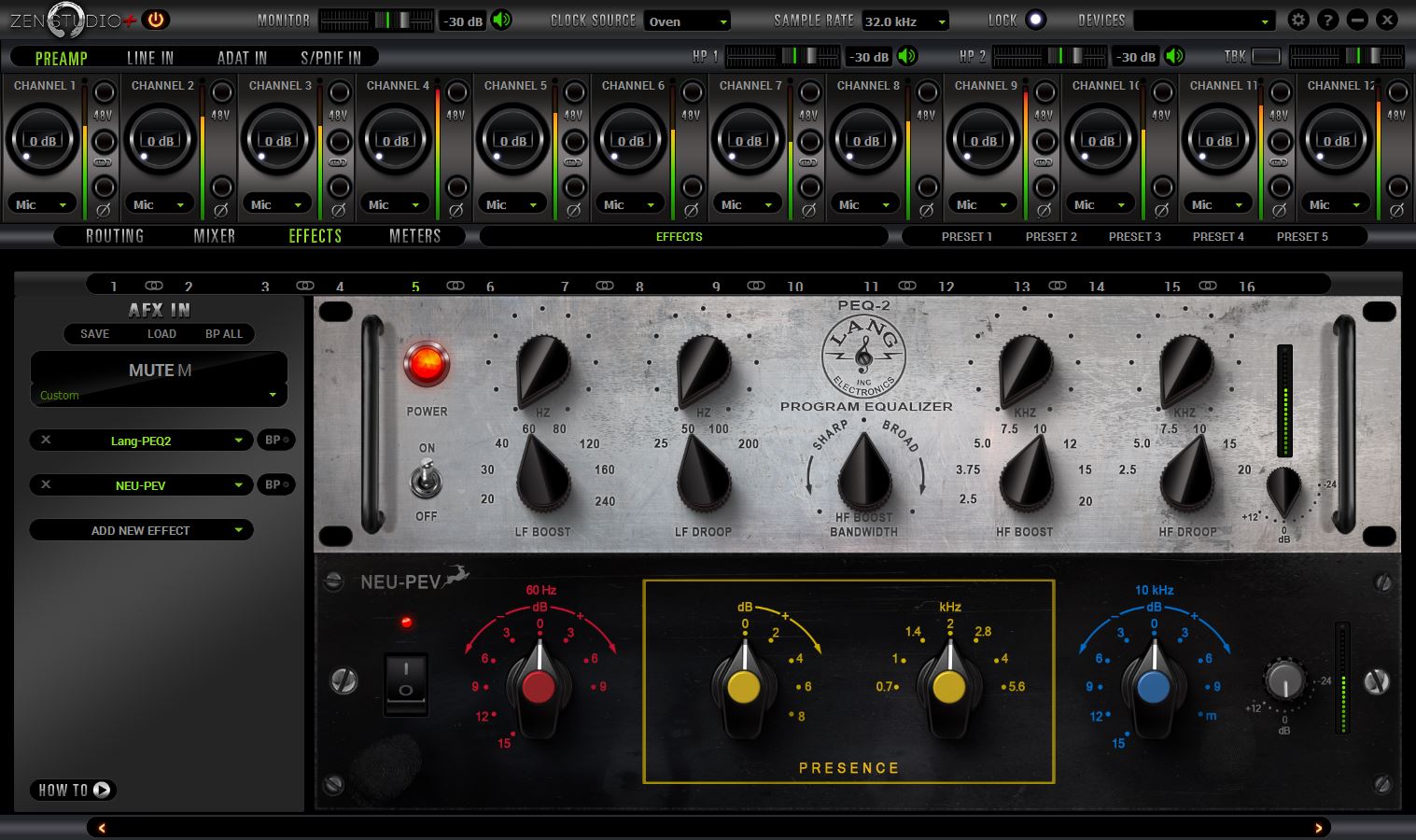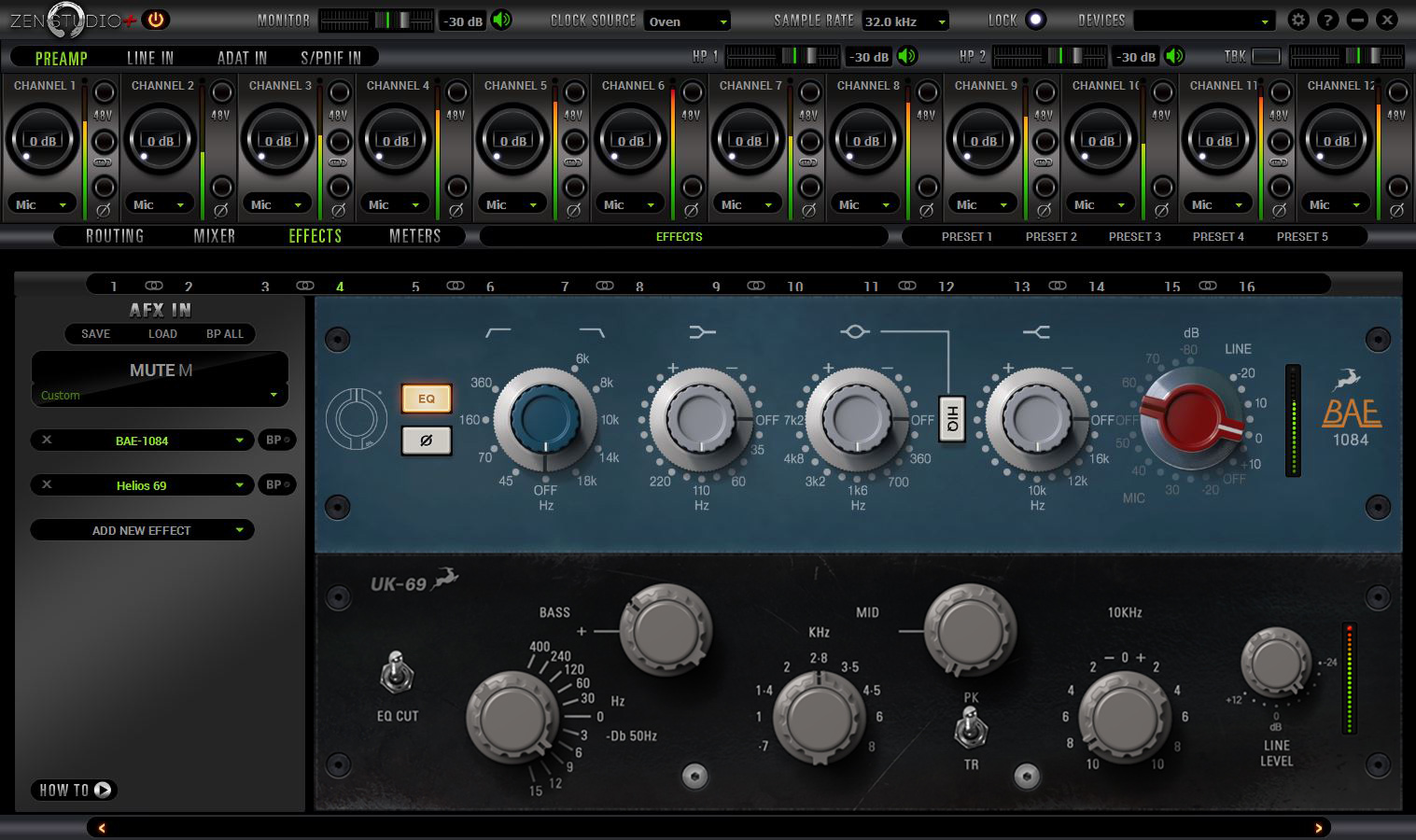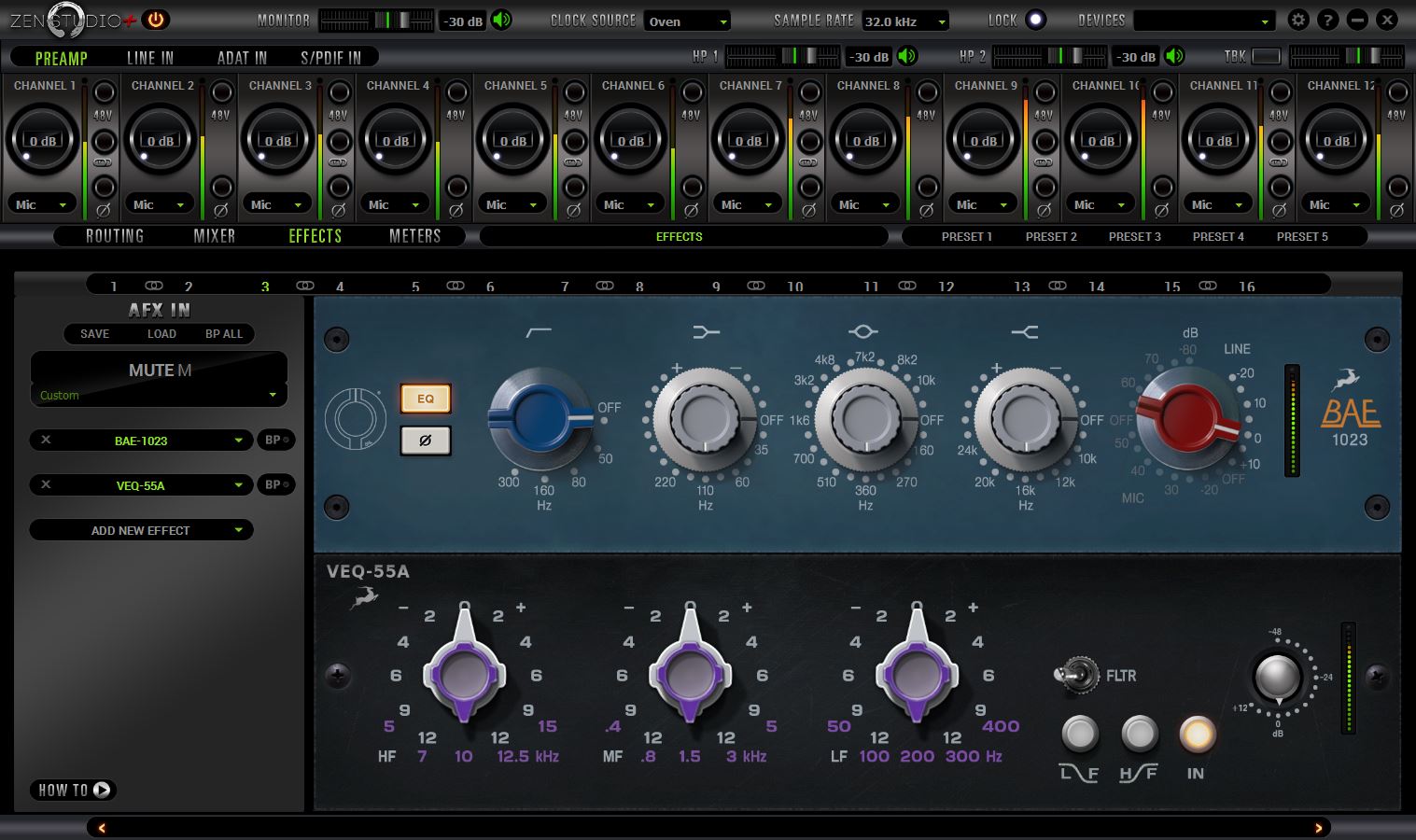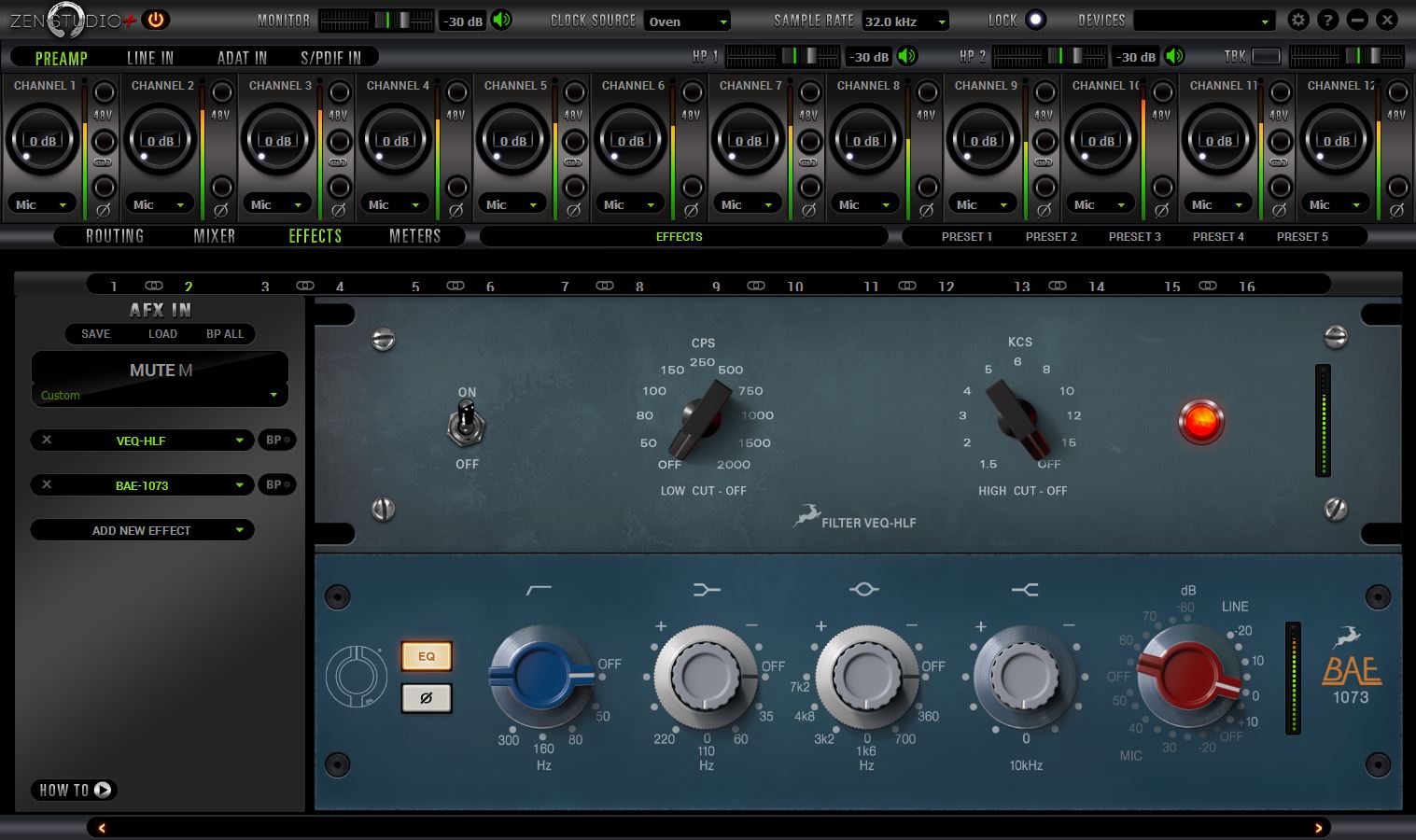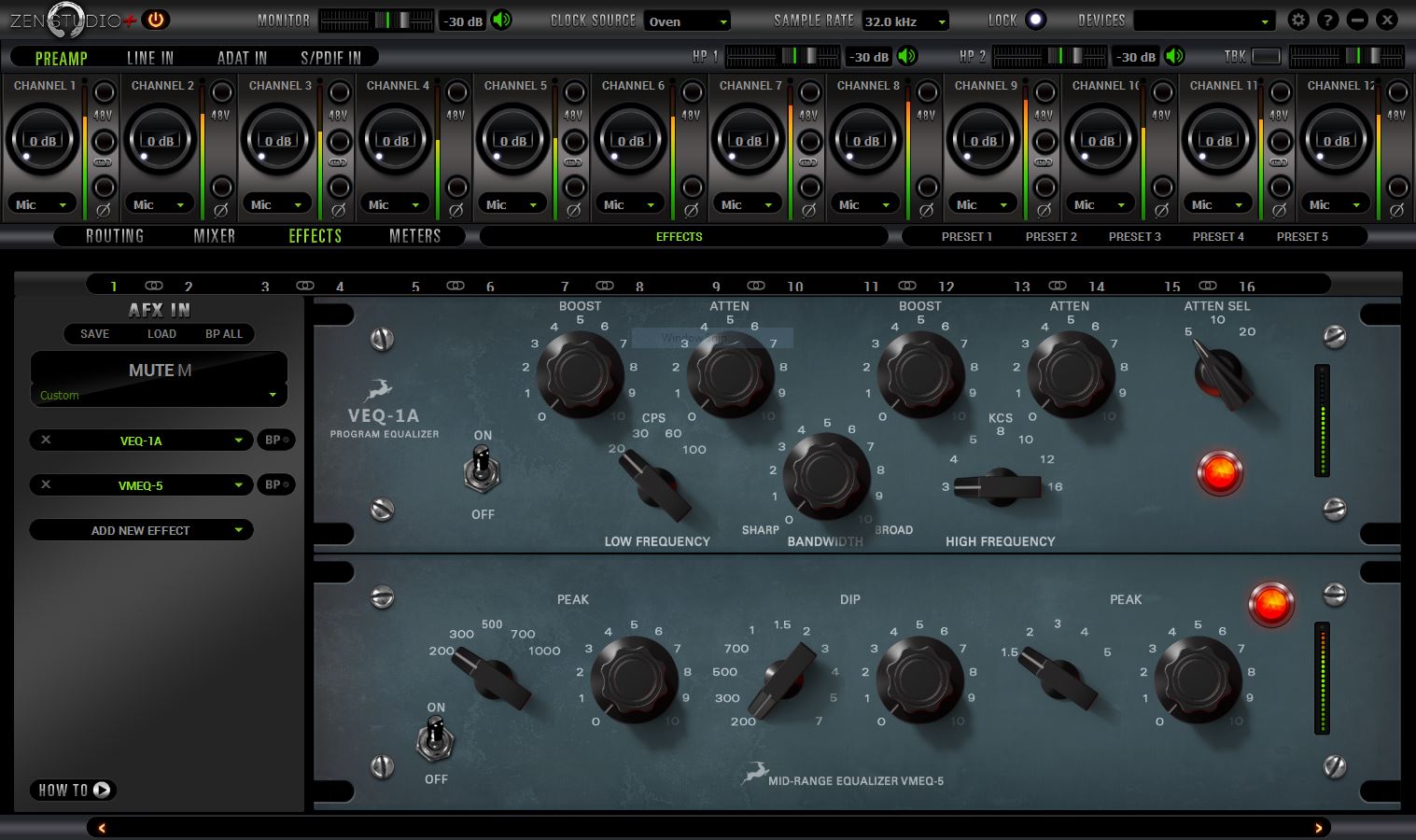 POWER MEETS MOBILITY
Portable Thunderbolt™ and USB interface with 12 mic pres
Zen Studio+ is the successor to Antelope's first of a kind professional portable interface Zen Studio. It's extensive analog and digital connectivity, 12 world-class mic preamps and Antelope's signature clocking are now accompanied by an evolving library of hardware-based vintage effects. With both Thunderbolt™ and USB connectivity, Zen Studio+ is the most versatile high-end mobile recording system and capable of turning any location into a professional recording studio.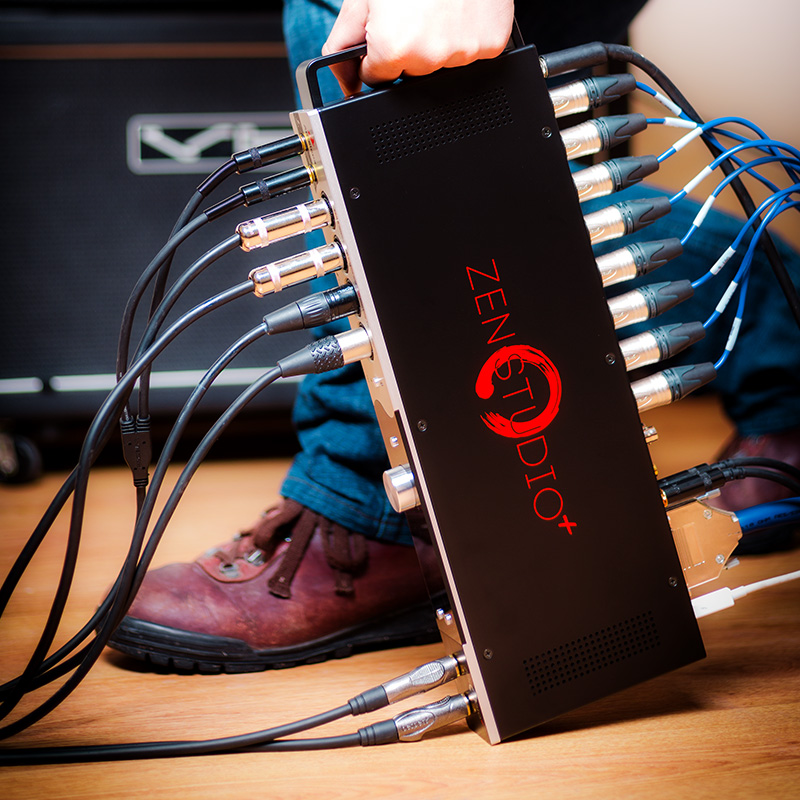 12 STUDIO GRADE MIC PREAMPS
12 Class-A Mic preamps, Hi-Z, Mic & Line ins with phantom power
POWERFUL FPGA
Custom FPGA for powering multiple monitor mixers and real-time effects processing
EXTENDED CONNECTIVITY
20 Analog Inputs, 2 Monitor Outs, 8 Line Outs on DB25, ADAT, S/PDIF, 2 Re-Amp Outs, 2 HP Outs
SUPREME CLOCKING
64-BIT AFC Technology built-in, Word Clock Out, Word Clock & Atomic Input
INTEGRATED TALKBACK
Front Panel Controllable Talkback with IOS/Android App implementation
SOFTWARE CONTROL
Routing, mixing, real-time effects processing via OS X & Windows compatible app
FPGA POWERED
Reinvent your studio workflow with the growing Antelope FX library
Now you can create and control multiple monitor mixes in realtime and also employ the sound of legendary studio hardware classics, while exclusively working in-the-box.
The exquisite collections of Vintage EQ's include authentically models of Lang PEQ1, BAE 1073, 1084, 1023, UK69 and many other classic British and German vintage units. Vintage Compressors begin with the life-like model of the FET76 and many more are soon to be available, FREE to all new and registered users of Antelope's growing line of world class interfaces.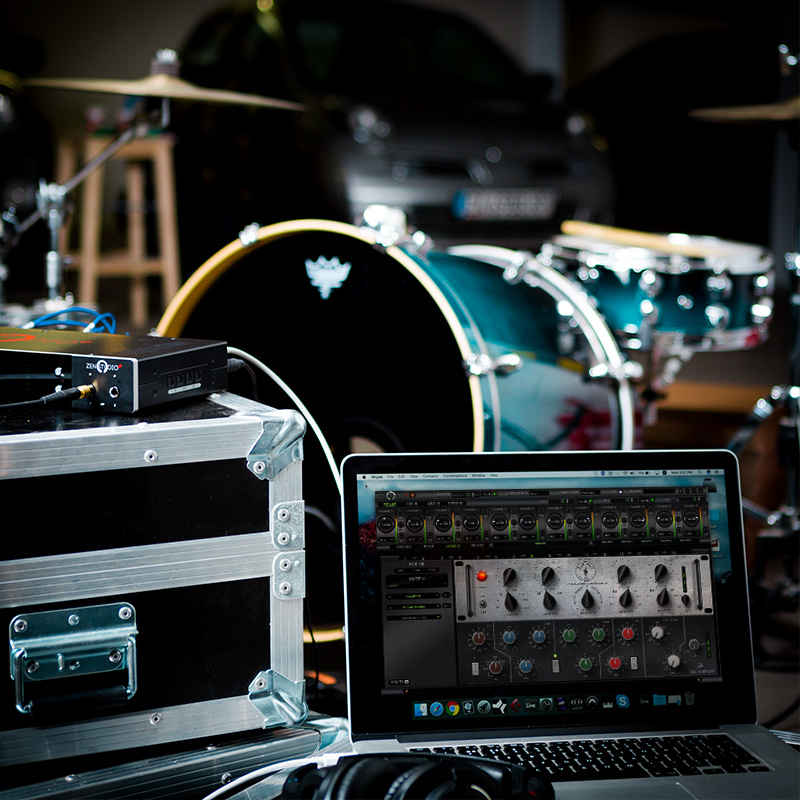 "Zen Studio+ […] is killing it with its insanely detailed sound."
Angel Simitchiev is an artist and electro-acoustic music composer from Sofia, Bulgaria. Mostly known under the name Mytrip, he's involved in music ranging from ambient and drone to hardcore punk. He's currently teaching Sound Art in Sofia's National Academy of Arts. His music is also often found in various art forms such as theatre, performance, video art, short film and fashion.
ARTIST FRIENDLY!
Zen Studio+ perfectly suits every pro working on-the-go
The interface features аn integrated Talkback function, allowing easy and fast communication between recordings artists, the engineer and the producer. Zen Studio+ offers dedicated Re-amp outs, making it the perfect choice not only for mobile recordists and traveling artists, but for pro guitarists as well.
Users can create up to four independent, realtime mixes, which are assignable to any output, including the two independent headphone outputs or the Monitor or Line outputs with Antelope's proprietary routing matrix.

ZEN MEANS YOU ARE IN CONTROL
Access all Zen Studio+ features via desktop & mobile apps
Zen Studio+ is fully controllable via an intuitive desktop application for PC and Mac, offering flexible signal routing and customizable presets.
IOS/Android Apps offer remote control for adjusting Mic Pre gain levels from anywhere in the studio, perfect for checking mic levels right at the source instruments.

"

… it reacts right away, it shows exactly what you're doing at the moment, there's zero latency. And it's a beautiful thing."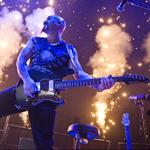 Michael "Fish" Herring. An accomplished musician, Fish toured the world with artists from the unknown to the legendary. He has also appeared on records for artists such as Mariah Carey, Tupac, Nas, LeAnn Rimes, Siedah Garrett, Celine Dion and other superstars, as his discography continues to grow.
CLOCKING LIKE WE LOVE IT
Perfect sound through flawless clocking
The unbeatable clocking accuracy of Zen Studio+ is provided by Antelope's renowned 64-bit Acoustically Focused Clocking (AFC) jitter management technology. Transients will shine like never before, you'll achieve a stereo image with incomparable depth and detail. And that sparse and crystal clear high-end… Yes, we're talking sonic perfection just like in our game-changing OCX HD and Trinity master clocks.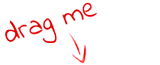 2 x Reamp Outs
These direct outputs should be used with guitar amplifiers for reamping
4 x Intrument/Mic Preamps/Line Inputs
4 Class A mic preamps with phantom power over Combo input with switchable line/ Hi-Z input
TalkBack Button
The talkback microphone can be distributed to the selected headphones and/or monitors using the software control panel or the touchscreen
Power Button
Toggles standby/operation state. Clicking and holding for two seconds allows you to enter sub-menu of the device
Rotary Control
Large stepped attenuator for headphone volume and main out volume
Display
Multi-function display that can scroll (using the 2 option buttons (6) to the right) through five different option screens
2 Option Buttons
Two option buttons allow you to scroll up and down between five different option screens
2 Headphone indicator lights
These lights are illuminated to indicate which headphone outputs are active
Headphone Outputs
Two independently assignable headphone outputs, selectable and controllable via the main volume control knob
48V Indicator light
Displays when phantom power is enabled at any of the inputs

USB High-Speed
1 USB connector Type B and operates up to 192kHz sample rate with Antelope ASIO on Windows & Mac OS X
DC Power Connection
For use with Antelope's DC power supply only
ThunderboltTM port
Enables you to connect your Zen Studio+ to a ThunderboltTM port on a Mac computer using a ThunderboltTM cable (not included)
D-SUB 25pin TASCAM Analog Outputs
A connector enables you to attach breakout cables, each with 8 lines
D-SUB 25pin TASCAM Analog Inputs
A connector enables you to attach breakout cables, each with 8 lines
Main Stereo Monitor Outputs
Assignable unbalanced stereo output
S/PDIF Input/Output
75 Ω S/PDIF inputs for use with compatible equipment
Word Clock Output
1 Word Clock Output with a BNC connector
Word Clock & Atomic Clock Input
BNC connector used to receive Word Clock reference.
8 Line and Mic Preamp Inputs
8 Class A mic preamps, with phantom power over combo XLR.
AD Inserts
Two ¼" TRS insert points (L & R) for connecting analog gear such as dynamics processors or EQ's, just before the A/D conversion

ADAT Inputs and Outputs
2 Inputs & 2 Outputs (up to 8 channels per line)
ANALOG

Analog Inputs

• 1 × DB25 (8 channels)
• 4 × Mic / Line / Hi-Z on XLR combos on the front
• 8 × Mic / Line on XLR combos on the rear

Analog Inserts

2 × Inserts on 1/4″ TRS (dedicated for inputs 1, 2)

Analog Outputs

• 1 × DB25 (8 channels)
• 1 × Stereo pair of Monitor outs on 1/4″" TRS
• 2 × Stereo Headphone outs on 1/4″" TRS (4 channels)
• 2 × ReAmp outs on 1/4" TRS

D/A Monitor Converter

Dynamic Range: 118dB
THD + N: -98dB

A/D Converter

Dynamic Range: 120 dB
THD + N: -110 dB

D/A Converters

Dynamic Range: 118 dB
THD + N: -105 dB

Mic Preamp

Gain: 0,10 – 65 dB
THD + N: -108 dB
DIGITAL

Digital Inputs

• 2 × ADAT (up to 16 channels)
• 1 × S/PDIF

Digital Outputs

• 2 × ADAT (up to 16 channels)
• 1 × S/PDIF

USB I/O

USB 2.0 Hi-Speed;
Data stream up to 480 Mbits/192kHz, 24 channels I/O, Type B

Thunderbolt™ I/O

1 x Thunderbolt™, 32 channels I/O
CLOCKING

Word Clock Input

1 x Input @ 75 Ohms 3Vpp on BNC 32 – 192kHz

Word Clock Outputs

1 x Outputs @ 75 Ohms 3Vpp on BNC 32 – 192kHz

Clocking System

• 4th Generation Acoustically Focused Clocking
• 64-bit DDS
• Oven Controlled Crystal Oscillator

Clock Stability

<+/-0.02 ppm, oven controlled at 64.5ºC/ 148.1ºF

Clock Aging

< 1 ppm per year

Clock Calibration

< +/-0.001 ppm

Sample Rates (kHz)

32, 44.1, 48, 88.2, 96, 176.4, 192
OTHER

Operating Temperature

0-50°C, 32-122°F

Weight

2kg / 4.4 lb (approx )

Dimensions (approx)

• Width: 418 mm / 16.5"
• Height: 45 mm / 1.8"
• Depth: 145mm / 5.7″

Electrical specs

DC Universal input: 18V
Power Consumption: 25 Watts Max

In the box

• Zen Studio+ Portable Audio interface
• Quick Start Guide
• Warranty Card
• 1 USB Cable
• 1 DC Power Adapter
WINDOWS
OS: Windows 7/8/8.1/10
Disk Space: Minimum 512 MB available disk space
USB: 1x USB 2.0 Port
Required USB bandwidth: 80%-90%
CPU: Intel or AMD equivalent CPU with at least 2GHz operating frequency
Memory (RAM): 4GB Minimum (8GB or more Recommended)
MAC
OS X: 10.9/10.10/10.11/10.12 (Sierra Recommended)
Disk Space: Minimum 512 MB available disk space
USB: 1x USB 2.0/3.0 Port
Thunderbolt: 1x Thunderbolt/USB-C Port
Required USB bandwidth: 80%-90%
Memory(RAM): 4GB Minimum (8GB or more recommended)
CPU: Intel Core 2 Duo (Minimum) Intel Core i3 ™ or higher (Recommended)
Additional Info: Internet connection required for product activation.