Discrete 4 Pro Synergy Core Key Features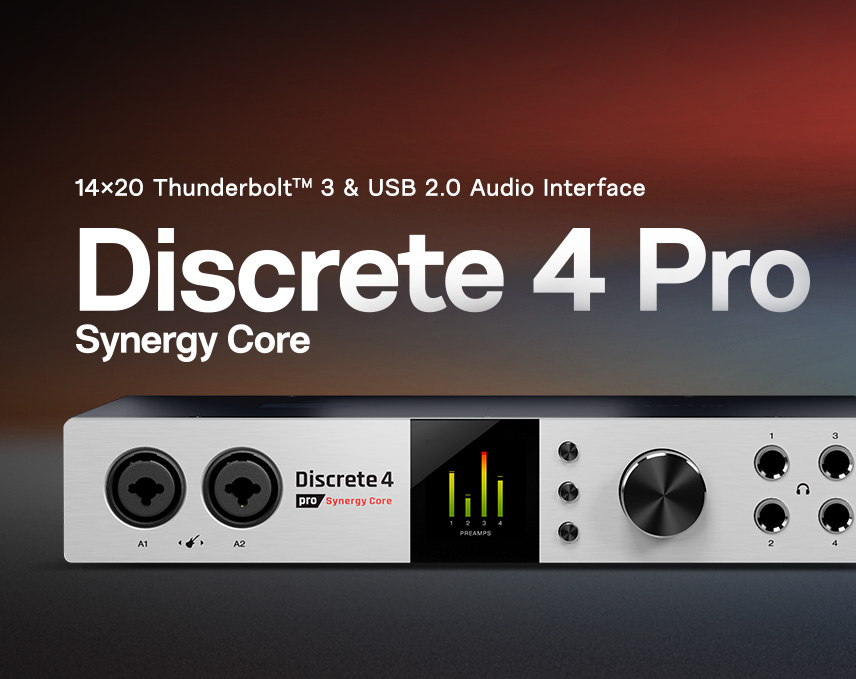 • Proprietary 64-bit Acoustically Focused Clocking technology for increased width, separation, and detail in musical performances; 
• Proprietary Jitter Management algorithm delivering truthful and expanded soundstage; 
• Ultra-accurate A/D and D/A conversion ensuring lush, bold, & expansive recordings and reproduction of your instruments and vocals.
Analog & Digital Connectivity
• 14 x 20 Desktop audio interface with Thunderbolt & USB connection for Mac/Windows; 
• Four Discrete console-grade 6-transistor preamps on combo XLR jacks for professional recordings. All work as microphone/line inputs, and two of them are Hi-Z compatible; 
• 4 DC-coupled analog output channels over TRS; 
• Thunderbolt 3 (up to 32 channels) and USB 2.0 (up to 24 channels) ports for native DAW application with custom macOS & Windows drivers; 
• Digitally expandable I/O over ADAT (up to 8 channels) and SPDIF (up to 2 channels); 
• Two word clock outputs letting you distribute the interface's highly stable clock signal across your studio; 
• Four independent headphone outputs; 
• Stereo monitor outputs over TRS; 
Workflow-enhancing features
• A hybrid control panel combining the best of both worlds – a flexible routing patch-bay together with a simplified control panel – both accessable depending on your preferences; 
• Easily adjust the monitor mixes for the monitor output and separate headphone mix that can be split into individual cue mixes and sub-mixes while applying pan, reverb, other effects and stereo link; 
• Customizable presets complete with signal routing, level adjustments, mixer settings and sub-mixes; 
• Direct hardware monitoring with effects, processed in real-time with imperceptible latency; 
• Easily accessible front panel with independent monitor volume knob and buttons for easy access to essential device settings and functionalities. 
Onboard Real-Time Effects
• Collection of 37 analog-modeled effects featuring classic as well as rare compressors, EQs, mic preamps, and guitar amps and cabs; 
• 2×DSP, 1×FPGA Synergy Core proprietary onboard real-time platform for effects processing with imperceptible latency; 
• Up to 80 effects instances per session loaded simultaneously on 16 individual virtual racks. 
● Discrete 4 Pro Synergy Core 
● Power supply adapter 
● USB type A to B cable 
● Getting Started leaflet 
*Note: Thunderbolt 3 cable is not included
● For minimum system requirements visit our support portal