EXPLORE the VINTAGE MIC COLLECTION
Unlock detailed software emulations of the world's most iconic mics.

Berlin 47 FT
Berlin 47 FT will allow you to finally enjoy the authentic sound of one of the most popular microphones in history of audio recording. This emulation perfectly combines the wide dynamic range and meticulous attention to detail of the hardware original. It's perfect for capturing vocals, acoustic instruments and even aggressive sound sources as kick drums.
Berlin 49T
The original behind Berlin 49T was a revolution on its own for its unique two cardioid condenser systems architecture. This would mean nothing if the resulting sound didn't feature a next level smoothness with strong low-end and more than convincing highs. You'll find this one on all your favorite 1950s and 1960s pop, soul and jazz recordings. It's highly suitable for vocals but its great bass response makes it perfect for drums and brass as well.
Berlin 57
Berlin 57 comes straight from 1957 and it sounds as great as you can expect. The mic owes its specific sound to a large-diaphragm capsule with a PVC membrane and a triode tube. Users can switch between omni, cardiod and figure of eight polar patterns. Just hear how this one captures vocals and you'll fall in love with it.
Berlin 87
This microphone is the way to go when recording piano, vocals, overheads, guitars, strings, brass section, percussion. Honestly, there's almost nothing that Berlin 87 can't handle. We're bringing this 1970s classic straight from the good old times to your 21st century studio. No pro can live without an 87 so it was high time you got yours!
Berlin 67
Berlin 67 carries the true sound of an iconic tube condenser microphone with multiple polar patterns. This German legend can record in omni, cardiod or figure eight. Its popularity is due to its signature sound and flexibility. Berlin 67 is powerful multi-purpose mic that is a must-have for any studio.
Berlin M103
Another German studio legend is now available in the FPGA domain. Berlin M103 has been modeled after the iconic large-diaphragm condenser mic with a Berlin 87 style-capsule and transformerless circuitry. This cardiod micropohne is signature for its low noise-floor and wide dynamic range. Berlin M103 is praised not only by music engineers specialized in classical music but by sound designers and Foley artists from the top tiers of the movie industry.
Tokyo 800T
Wondering what lies behind the silky and smooth vocals on your favorite records? Chances are high that it's exactly the Japanese microphone legend we modeled our Tokyo 800T after. This vintage tube mic is a top choice for all masters of vocals recordings. With a super low noise-floor and extreme sensitivity, it's also a great fit for recording acoustic guitar sessions.
Vienna 12
A classic large diaphragm condenser and a highly sought after tube microphone. Vienna 12 is modelled after the latest revision of the original, which means – low noise, wide frequency response (from 30 Hz to 20 kHz) and switchable polar patterns. Those include cardioid, figure eight and omni.
Vienna 414
Vienna 414 is a flexible multi-pattern condenser microphone. The original, which inspired our emulation, has been used in top recording facilities, broadcast studios and performance venues all around the globe. It allows users to switch between whole nine polar patterns and offers unique dynamic range, frequency response and spatial detailing. It's perfect for lead vocals and solo instruments but also as a room mic for drum recordings or classical music sessions.
Oxford 4038
Before becoming a preferred tool for professional recording engineers, this bi-directional ribbon microphone was widely popular in broadcasting studios all around the UK. The reasons? Its ability to capture sound with a smooth and wide frequency response, its high sensitivity and lack of transient distortion. The resulting sound? Natural and clear, fitting both voice and delicate acoustic instruments. No wonder it's highly sought after and still used to this very day.
Sacramento 121R
The Sacramento 121R is modelled after the most commercialy used ribbon Microphone especially on guitars. It offers natural and pure sound plus extended dynamic range, which is actually even higher than its predecessor models.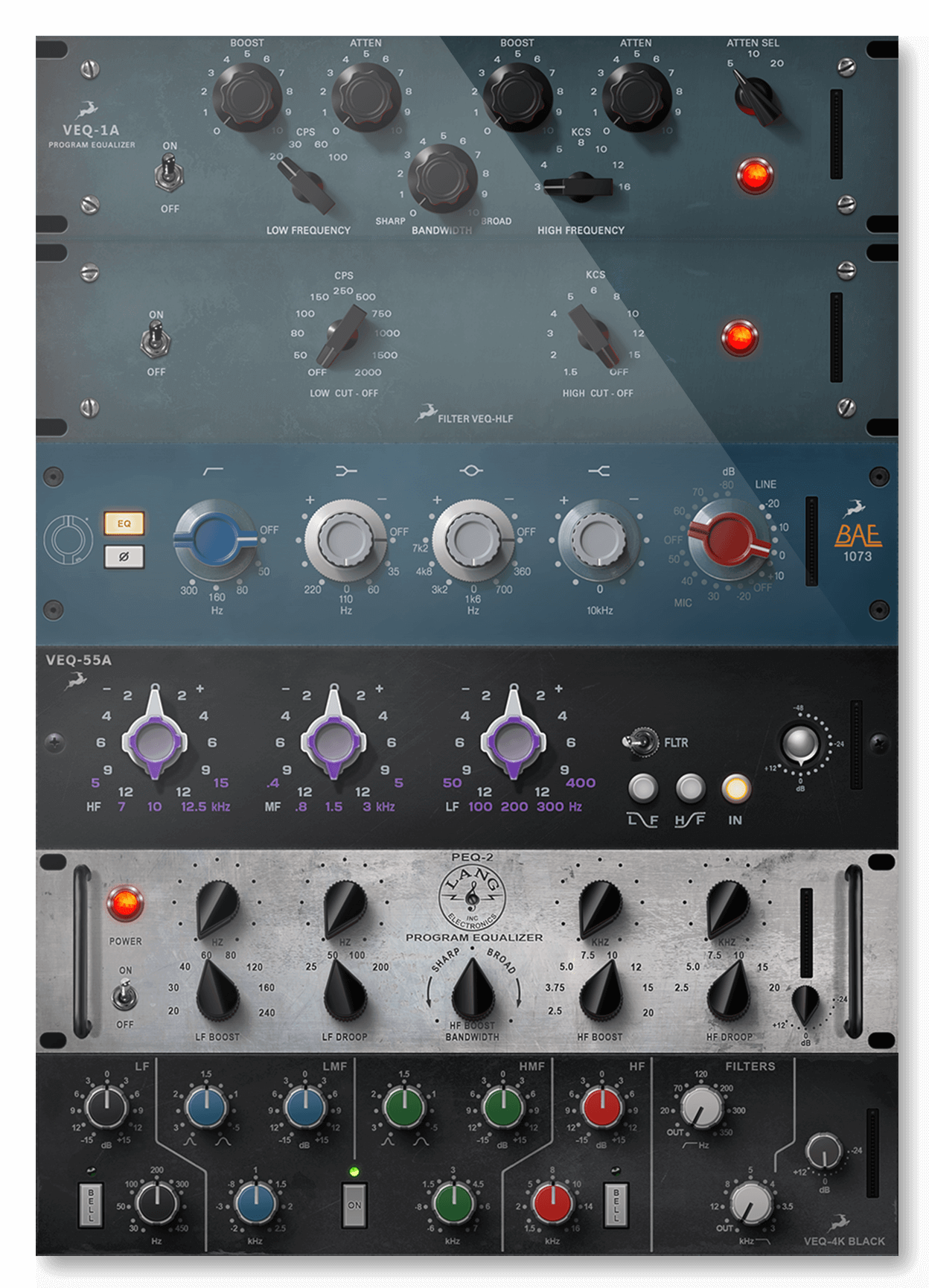 CLASSIC EQUALIZERS
The almighty EQ is what lets you tune and shape your recording until it sounds its best. A proper studio EQ isn't just a tool to cut or boost frequencies. If it was, all EQs would sound the same!
These equalizers are considered studio staples for a reason. They all implement sophisticated circuitry, designed to impart an unique sweetness and pleasant musicality to any audio running through it. Each of these EQs is a pinnacle of audio engineering by itself, as much as it is also rare and difficult to obtain.
VEQ-1a
veq-hlf
BAE-1073
VEQ-55A
LANG PEQ-2
VEQ-4K BLACK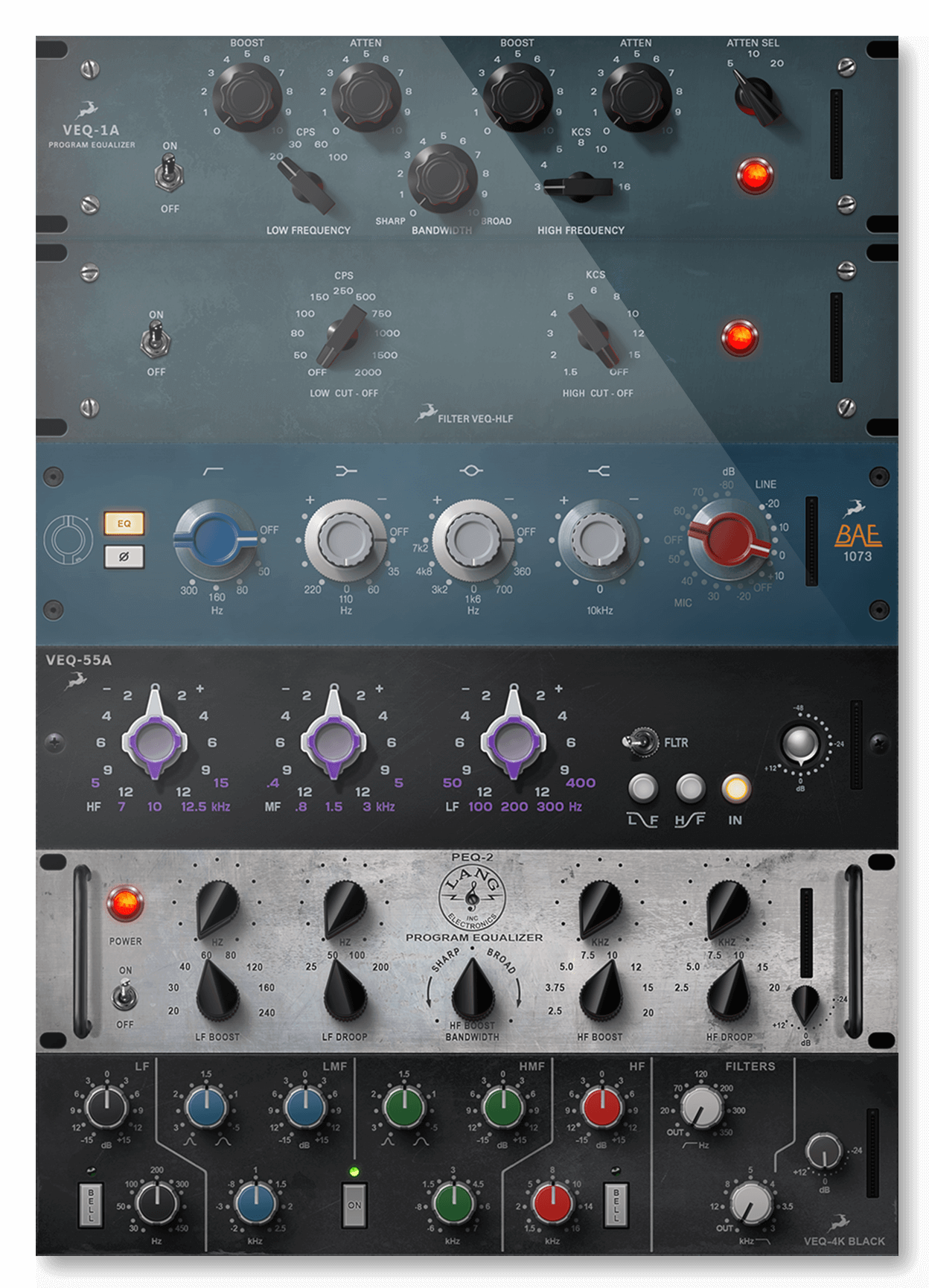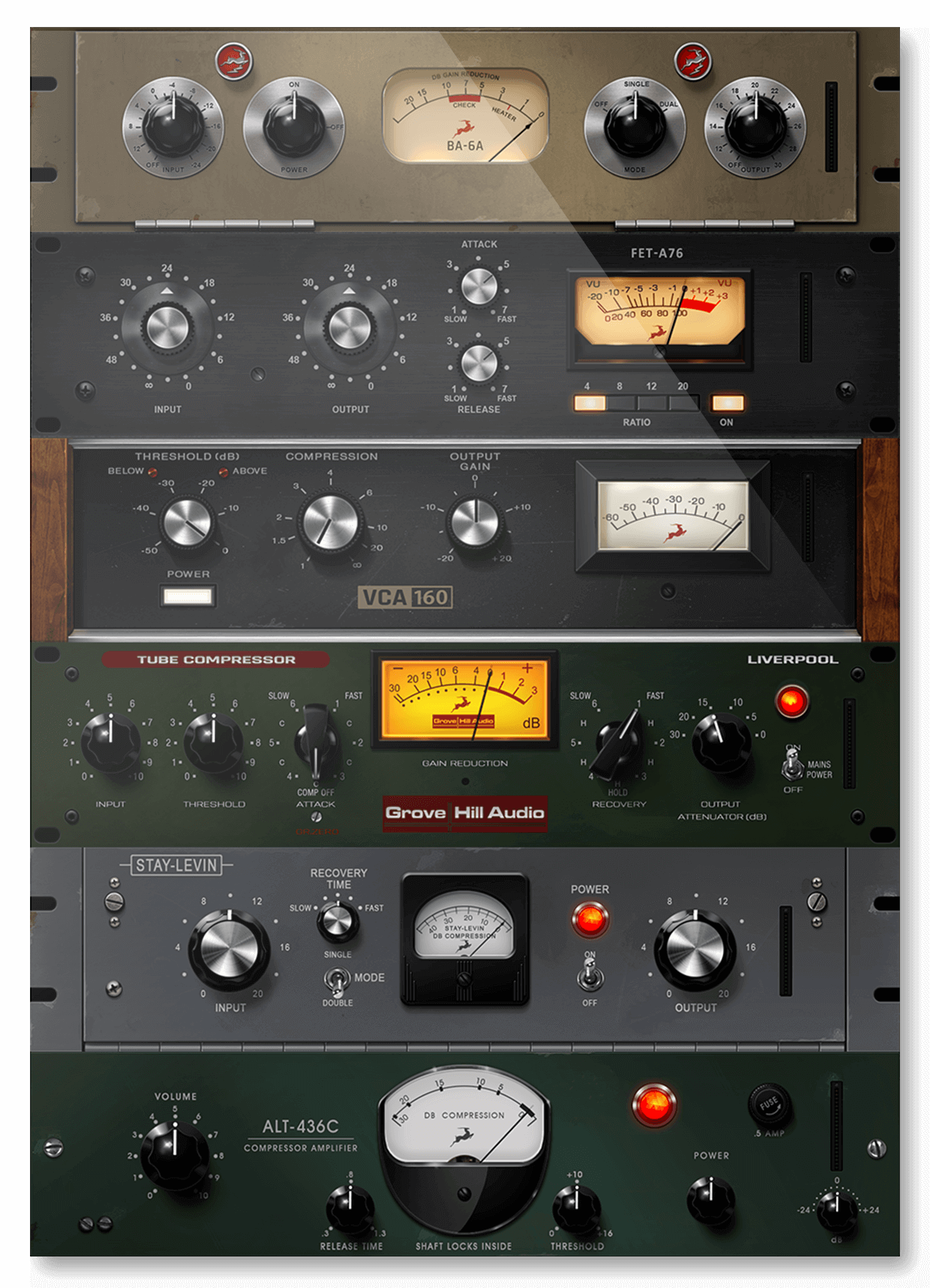 VINTAGE COMPRESSORS
If the EQ is about sounding nice, the compressor is about sounding big and bold. Compression is the key ingredient in the so-called "studio sound" you likely aspire towards. It reduces the dynamic range of your recording to make the quiet parts louder, and the loud parts consistent – resulting in even, smooth, and controlled audio.
Needless to say, building a great-sounding compressor is no child's play. Luckily, pro audio legends did the hard work for us – as many as six decades ago, in fact. We returned the favor by ensuring their incredible accomplishments will live forever – in your Edge Go's library of compressors – never to be lost or forgotten.
BA-6A
FET-A76
VCA-160
LIVERPOOL
STAY-LEVIN
ALT-436C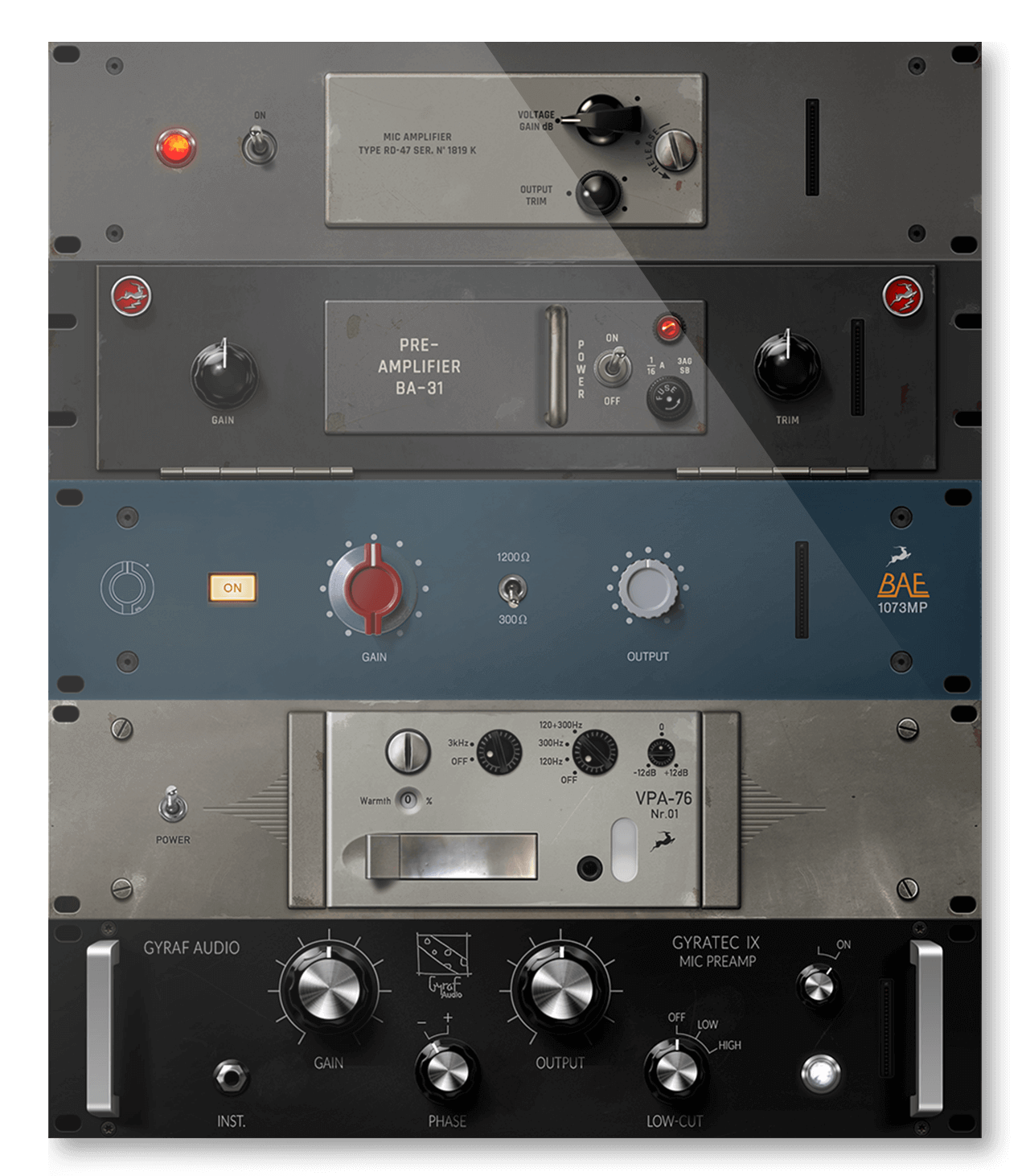 MIC PREAMPS
"What made them sound like that?" – you may be asking yourself as you listen to your favorite singers. Truthfully, the answer can be quite complex, but rest assured there's a mic preamp involved. A fine preamp doesn't merely amplify the signal coming from the mic – it also imparts its distinct, unmistakeable sonic character. Warm. Fat. Punchy. Neutral. The choice is yours. Explore the Edge Go's library of preamp models and chances are you will hear instantly familiar sounds that you know and love.
RD-47
BA-31
BAE-1073
VPA-76
GYRATEC IX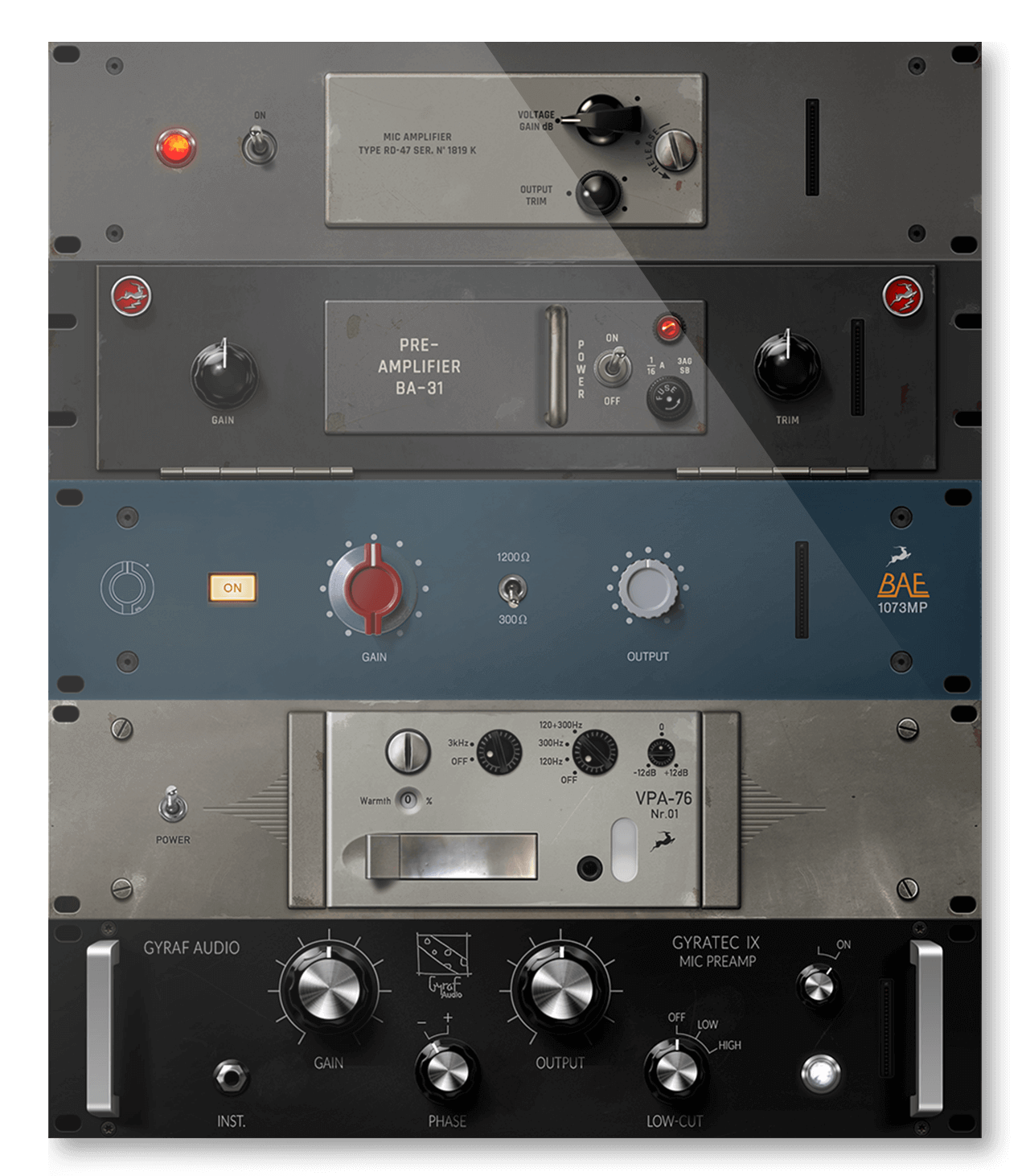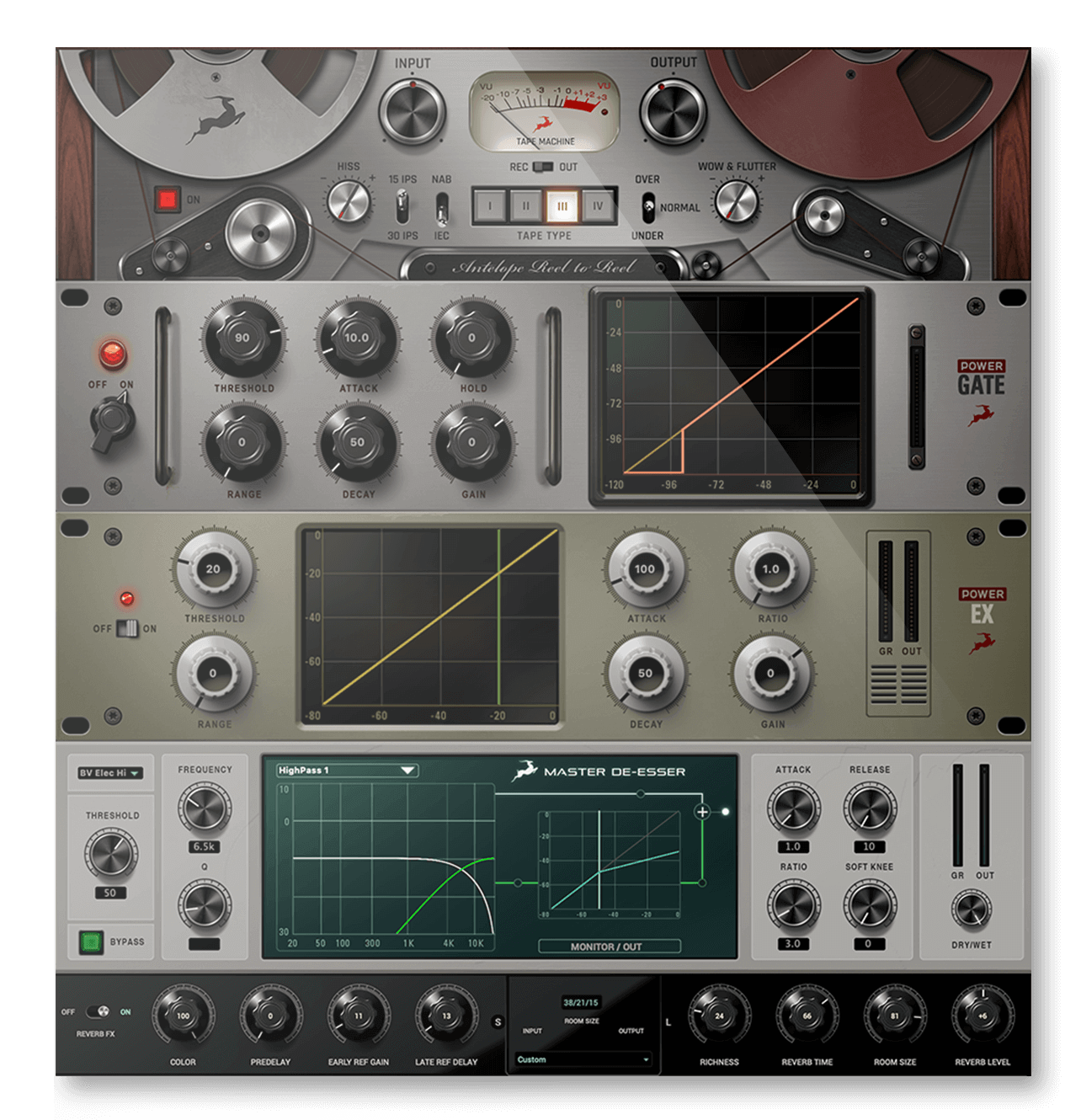 STUDIO ESSENTIALS
In addition to everything else Edge Go has to offer, it ships with a suite of essential studio effects that cover the vast majority of mixing and mastering needs. They run in real-time on our proprietary FPGA FX platform, taking a massive burden off your computer. Clean up your audio with PowerGate and hear the warmth of Tape Saturation on your voice and instrument recordings.
REEL 2 REEL
POWER GATE
POWER EX
MASTER DE-ESSER
AURAVERB
PRESETS
Not sure where to start? Edge Go software gives you one-click access to presets like "Telephone Effect," "Massive Reverb Space," "Fan Noise Reduction," and more, so you can nail that sound in your head and start recording fast. Get creative and build the effects chain of your dreams, then save it as a preset, so inspiration is only a click away.