Shred Guitar
Amps Bundle
Our effects are device-specific. Select a device to see if this effect is compatible, free or a paid extension.
Shred Guitar Amps Bundle
Shred Guitar Amps Bundle
The Shred Guitar Amps Bundle is the most hot-rodded collection of amplifiers to grace the stage. Featuring a number of well-known classics in addition to modern hi-gain beasts, this bundle is all about heavy rock and metal sounds. With captivating cleans, crunchy rhythms, screaming leads, and everything in-between, no stone has been left unturned.
As with everything Antelope Audio, each amplifier is meticulously modeled down to its circuit and components, behaving exactly like the original hardware. It's all happening in real-time, letting you record and monitor live with the exact settings you want. Don't worry about latency – it's now a thing of the past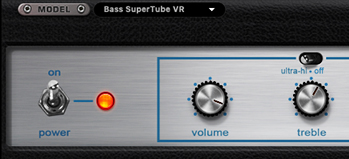 Bass SuperTube VR
If you're playing the loud and straight-in-the-face rock'n'roll game, you have no other choice but to go for the Bass SuperTube VR. This tube amp beast comes to your studio straight from the 1970s to bring back the edge in modern rock and heavy metal music. Bass SuperTube VR is freshly recreated in the FPGA domain and sounding as real and loud as it gets. The tone shaping controls are just like you remember them and will allow you to endlessly experiment to achieve and craft the perfect bass tone. Any rock'n'roll track needs a meaty and massive bass, and while Bass SuperTube VR surely does provide, it's still quite versatile and will breathe a new life in a far wider plethora of music genres.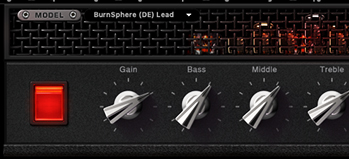 Burnsphere (DE)
Burnsphere (DE) is a modern amp especially suited for fans of meaty, bottom-end guitar sounds — but with an incomparable punch to make your solos and power chords sound tight and massive. This amp can handle high gain, modern metal sounds with the same precision as ringing and clean guitars. In both blends, you will not be missing presence, power or punch. With Burnsphere's Gain, Bass, Middle, Treble, Presence and Master Volume controls, you'll be able to achieve your own signature, low-end and low-mid sound — whether you are playing ballsy rock 'n' roll, noisy jazz, or heavy metal. Two additional switches for Normal/Bright and Bottom make it a piece of cake to craft crispy cleans or heavily distorted blends with Burnsphere's own 'black magic' drive. Finally, the louder you play, the better this amp will sound! But rest assured, you can still achieve a pristine sound at lower levels. The name of the game with Burnsphere is to experiment and find your own voice, as we made sure this amp can adapt to any guitar-oriented genre and deliver its own style — how you play it is up to you!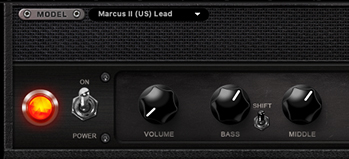 Marcus II (US)
With its sensitive lead channel and improved reverb circuit, Marcus II (US) was designed to honor the sound of one of the most expensive and sought after guitar amps of the 80s. Now, your wallet doesn't have to bleed to access this vintage legend since its authentic sound is perfectly recreated thanks to Antelope's proprietary and revolutionary FPGA chip. Marcus II (US) is one of the loudest and most sensitive amps you will ever encounter. This amp promises to capture all the dynamics of your guitar playing, and sparkle like no other. The transistor EQ adds a slightly different touch to the all analog tone of the Marcus II (US) and is quite versatile thanks to a set of simple but effective controls. Looking for a Fender inspired tone? Just cut the mids on the EQ. Want to go for a thicker and not too bassy Marshall-like sound? Try giving the mids a boost. When it comes to prog rock or metal the Marcus II (US) is your top choice, It can represent the complexity of your playing, as well as the unique detail in your tone. Need a clean rhythm guitar tone or do you want to craft a memorable lead guitar sound with no mud in the low end? The Marcus II (US) is your amp!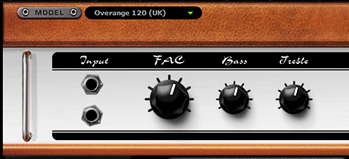 Overange 120 (UK)
Designed after an amp that was built to be most effective when played loud as Hell, we made sure that Overange 120 (UK) hit the mark. Characteristically hard to tame, raw and old school, Overange 120 (UK) is choc with overdriven textures you simply won't hear in other amplifiers. Maybe that's why this one has been around since the early 70s. It is easy for you to find your sweet spot with Overange 120 (UK) if you get to know its parameters. On lower volume levels, you won't be able to attain its signature primal rock sound, but it's cleaner and quieter sound will be be a pleasant surprise for the warm tones required for jazz, country or blues tunes. We managed to achieve a unique versatility in an amp, while instilling subtle modern touches and welcome revisions. Yes, it still carries that flagship British tone, but this tone can now fit into a plethora of genres thanks to the advanced controls and functionality of Overange 120 (UK). With Overange 120 (UK), you can go for a tone with a tight low-end, but also sound perfect when going for a more high-gain, rich and ultra overdriven blend. From early rock to thrash metal, the Overange 120 (UK) has you covered.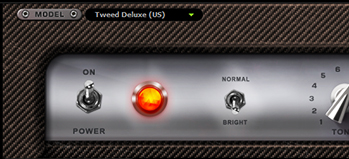 Tweed Deluxe
Tweed Deluxe is modelled after one of the most unique and sought after amps in the history of modern music. Introduced in the 50s, it's loved both for retaining a clean tone at high volumes, and for his signature saturated tone when cranked. This is our take on one of the most special and historic amps ever built. Found in the discographies of Neil Young, Billy Gibbons, Creedence Clearwater Revival and The Eagles, this little amp can turn from crystal and warm to wild and uncaged in the blink of an eye. Either way, it'll sound like no other amp built in the past 60 years. Playing on low volume will result in warm clean sound — but the louder you get, the more tasty the tube harmonics become, fattening your tone. Tweed Deluxe fits any genre from old-school blues, jailhouse country to wild rock and contemporary popular music. For an amp with a cab of that size, Tweed Deluxe has a very convincing low end — accompanied by rich mids and precise highs. The Tweed Deluxe has two main secrets: First are its simple controls, which consist of a Volume knob and the signature Tone knob. Using the two in combination, the possibilities are endless, and the limitations are only bound to your imagination. Another hint for mastering the Tweed Deluxe tone is honing the right choice of speakers. This will allow you to fine tune your blend depending on what your music or mix needs most – fatter lows, sparcer mids or more gold in the high-end. One thing is certain, Tweed Deluxe just can't sound bad.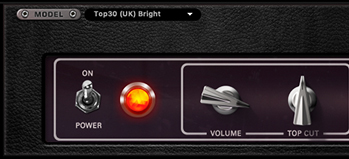 Top30
Top30 is the choice for the followers of the so-called "British Invasion Sound". This amp & cab produces a remarkably pure tone both if you like your guitar sound clean or overdriven. For over 60 years some of the world's most loved and accomplished artists have been returning to this unique blend. Top30's controls include Volume, Bass, Treble and Top Cut. We've added a 2×12" speakers cab for this gem, because that's exactly what it needs to do its magic.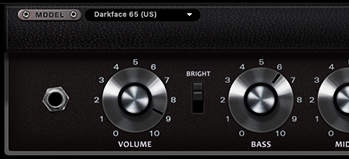 Darkface
Darkface is our tribute to the most classic amp of the 60s. If you have a heart for vintage rock, jazz, country or good old blues you'll surely love this sound. Designed to preserve the natural tone of the guitar, even at high volumes, is what made this sound so popular. That's what we went for when designing this. Just strum a chord through it and you'll love it.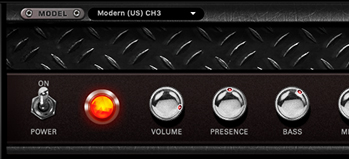 Modern
Modern is what you pick when you want to unleash a crushing wall of guitar sound. Suitable for any metal sub genre, this all tube guitar amp simulation is your best choice when you need super heavy distortion, but also when your leads and solos need some help to shine in the mix. This contemporary classic sounds best through a wall of speakers so, its default cab features 4×12" ones. Those are here to help you feel the sound of your guitar as you've never done before.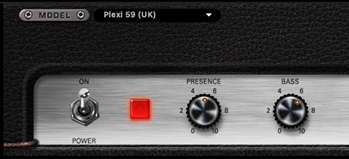 Plexi 59
Plexi 59 sounds bright and crunchy, with a lot of headroom – just like the hardware piece we love so much. Antelope's powerful FPGA allowed us to achieve the signature tone of this late 50s, hand-wired tube legend with large transformers and high-plate voltages.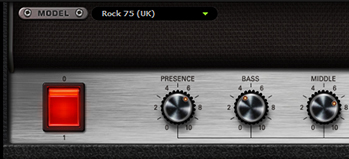 Rock 75
Rock 75 brings the true sound of one of the most beloved all-valve 100W amps in rock history. No reverb and no effects: just the pure raw rock tone, which has kept this amp in demand for over 40 years. Rock 75 is like the Plexi 59 on steroids. All the cranking his older brother couldn't handle, is now possible. Forty years ago this amp gave guitarists not only more heat, but more control over the output level. Now, that legendary amp architecture is authentically recreated thanks to Antelope's powerful custom FPGA. We ensured that Rock 75 is as loud as the real hardware inspiration – the tube amp legend that quickly became a standard for all big stadium rock raves. Back it up with 4x 12" Vintage Speakers and your guitars will be roaring like a lion.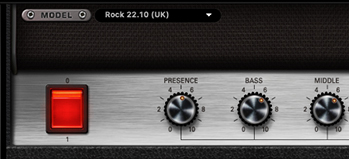 Rock 22.10
The 80s were marked by a worldwide hard rock and heavy metal explosion. For amp manufacturers that meant one thing – more gain. Rock 22.10 is FPGA-modeled after the amp, which handled this new sound the best. It achieved its savage and aggressive sound by having extra clipping diodes and its EQ was placed after the third gain stage. Antelope's 22.10 features controls for Presence, Bass, Middle and Treble plus Master and Pre-Amp Volume for even more detailed Gain control. Even though you've heard the sound of Rock 22.10 in your favorite heavy metal albums, that amp actually offers a pretty wider choice of sound. Yes, it's mostly edgy and aggressive, but if you're on the lookout for achieving more abrasive indie tone, it will surely serve that purpose as well.