VEQ-432C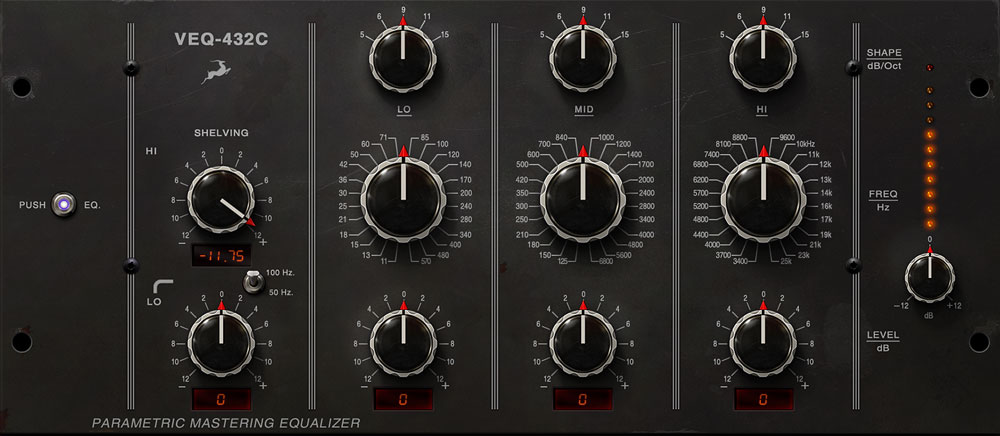 VEQ-432C
Parametric EQ
Our effects are device-specific. Select a device to see if this effect is compatible, free or a paid extension.
The fabled VEQ-432C is considered the absolute standard in mastering equalizers, the one to which everyone else in the trade must stand up to. The very inventor of the parametric equalizer himself served as its co-creator, emerging with a design that will, in its countless reincarnations, probably last forever.
Since its introduction in the late 60s and following refinements in the early 70s, the 432 has been the go-to mastering equalizer for the old-school pros – if they were lucky enough to own one. Upon first impact, the EQ sounds subtle, lacking any obvious drive and mojo. But the more you dig into the controls and use it, the more you start to hear a very particular and pleasant character added to your audio. Everything seems to sound great, even seemingly poor equalizing choices!
That's no magic, just what a top-end mastering EQ does best – getting those extra drops of sweetness out of an already excellent-sounding mix that needs little in the way of added polish. That said, the 432 will serve just as well in a mix bus or onto individual tracks in need of frequency bumps or cuts here and there. Use as many instances as you need and don't worry about latency and CPU use – your Synergy Core interface will handle it all, leaving more computer power for your favorite instruments and effects.