Zen Tour Synergy Core
Create. Without Boundaries
There has been an ongoing myth that portable interfaces are limited in power and processing capabilities. With the success of our Synergy Core processing platform, we believe we have the technology to break this myth for good. Since its implementation in our Discrete and Orion Studio products, our Synergy Core platform has been answering producers' rising demand for an efficient, latency-free effects processing platform. Some of you saw it coming – it was high time for the compact, road-ready Zen Tour desktop audio interface to join our Synergy Core range. The device holds on to what made the original a fan-favorite – the flexibility to produce your own music at home, take the audio interface to a live gig or rehearsal and having the channel count to record a small band. But who wouldn't like to carry more power during the whole process?
More Processing Power, Courtesy of Synergy Core
The Synergy Core processing module's combination of 4x DSP and 2x FPGA chips is the hallmark of the interface. But what does that mean for your project studio? You can now load up to 256 FX per session with imperceptible latency while recording dry or wet and monitor in real-time. Track a guitar, add some AutoWah, send the processed signal for the guitarist to monitor in real-time. Latency will never be an issue. the buffer size will be reduced and no load will be placed on your computer's hardware. Your complex FX chains will no longer eat up your system resources with our truly efficient FX processing technology.
The Zen Tour Synergy Core comes with a vast variety of effects. The 36 premier FX in the growing library can get you up and running immediately. Included are 2 preamp models, 4 equalizers, 5 compressors, 22 guitar amps & cabs, 2 special processing FX, and AuraVerb reverb. Take a look at our thorough FX library here. Inside, you can find effects modeled after legendary British-design compressors, American console-grade equalizers and British solid state processing.
Pushing the Envelope on Audio Conversion in a Desktop Interface
After diving deep into the technology of the Zen Tour's input and output stages, the op-amps and converter chips have been gracefully re-engineered and upgraded. As one would expect, the signature Acoustically Focused Clocking jitter management algorithm technology is still here, while the Zen Tour Synergy Core maintains pro-level AD/DA conversion. For artifact-free recording and critical listening, the ADC dynamic range is at best-in-class 124 dB. The dedicated line out DAC is sitting at the generous 127 dB. The monitor outs reaching 130 dB dynamic range for a wider soundstage. All in all, you get the pro-class conversion of rack-mount studio interfaces in a much more portable package.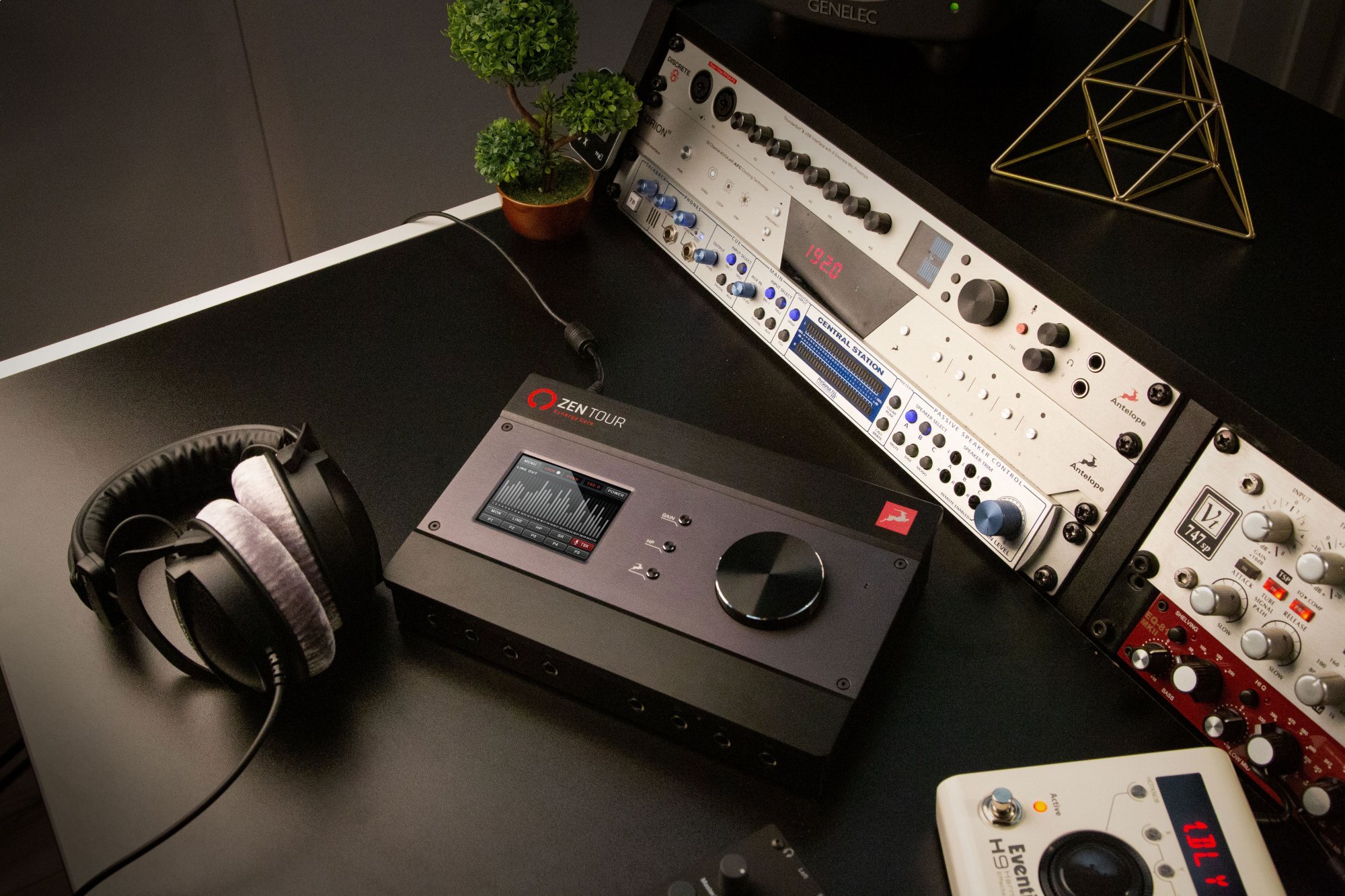 Small Footprint, Big Connectivity
Comprehensive connectivity is not something the Zen Tour is willing to compromise on. The 4 discrete transistor ultra-linear preamps offer ultra-low noise and distortion with 65 dB gain. This feat is accomplished without adding unnecessary coloration so you get the exact sound you are putting into the interface. Synth heads are going to be especially fond of the 8 DC-coupled analog line outputs on DB25 that can send CV/Gate to your precious analog synthesizers. For guitar players, the 2 Reamp outputs will give flexibility to re-amp recordings via your favorite guitar amps, without the need for re-recording.
Along with the 4 instrument/line Hi-Z inputs, a pair of monitor outs and 2 headphone outs make for a total of 8 analog inputs and 14 analog outputs. The digital I/O comes in the form of ADAT & S/PDIF expandability for an additional 10 channels. Users of multiple computers/operating systems can switch connections on the fly – the Zen Tour Synergy Core is ready to plug into your Mac or Windows PC, with Thunderbolt 3 (Type-C) as well as USB 2 (Type-B) for cross-platform compatibility.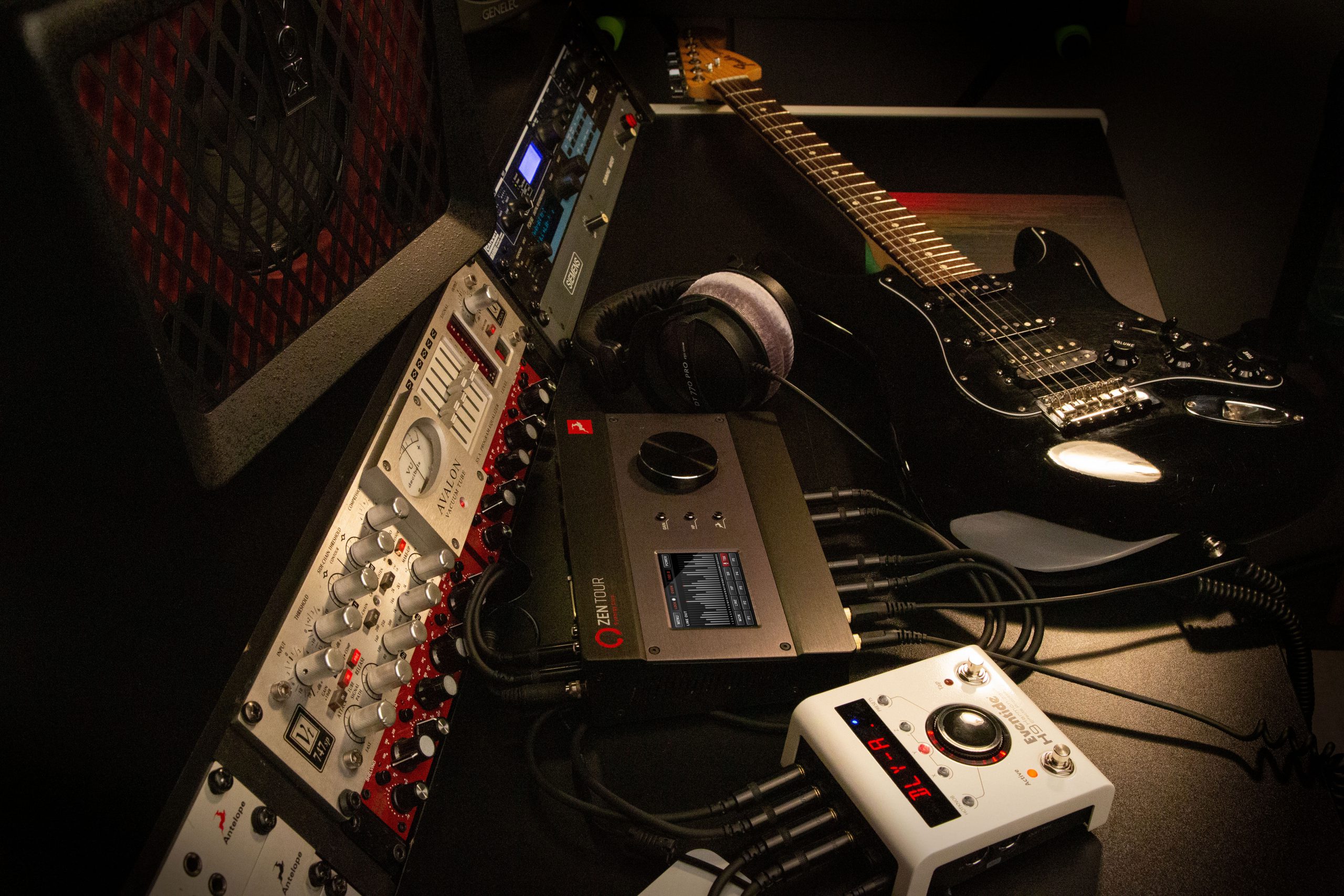 On the Outside
The convenient touch-screen controls and fast-access buttons will help you handle monitoring, operations and headphone controls easier and faster. For longevity, each Zen Tour Synergy Core sports a sleek road-ready machined aluminum body. Hand-built in our European facility the interface will look great, both on your studio desktop and in your band's practice space – and will do so for years to come.
The Zen Tour Synergy Core is mic modeling-ready and will unlock the full potential of real-time mic emulations for the Edge and Verge modeling microphones. All vintage emulations are processed by the Synergy Core thus ensuring ultra-low latency and real-time monitoring.
Never before have artists and producers enjoyed this kind of connectivity and sound quality on a desktop unit. The Zen Tour Synergy Core is a travel-friendly audio interface that packs quite a punch for its size. With the freedom to record anywhere at any time with a future-proof FX processing platform, your new go-to device for recording and producing is capable of much more than meets the eye. The Zen Tour Synergy Core is available for pre-order and is expected to arrive at the end of Q1 2020.