Describing himself as a "sonic storyteller", Sean Giovanni has his own philosophy which he likes to apply to every project he is a part of. As the owner of "The Record Shop" recording studio he likes a challenge and is not afraid to work in a wide range of genres.
Thanks to this quality which he has developed and hard work he has had the privilege to work with artists like John Legend, Juicy J, Big & Rich and Tim McGraw. He is also the a co-owner of a mindset development platform called Mind Map which is intended to help creatives achieve artistic prosperity through mental conditioning and emotional fitness.
Sean believes in self-expression, creation of long-lasting art and is passionate about helping others achieve creative fulfillment. During NAMM 2020 we had the pleasure of talking with Sean about his beginnings and what drives him. As a man with plenty of experience, Sean had some good tips for anyone involved in the craft of music-making.
How did you get into music? What was the first set of equipment/software you ever bought?
My first introduction to music was in grade school music class. I was fortunate back then that music education was still a major focus of early schooling. I was most intrigued by how orchestral instruments were used to depict a story in theatrical compositions.
It was fascinating to learn how sound good be used to tell a story. I got into Djing in middle school and shortly thereafter began exploring the craft of recording. The first piece of recording equipment I purchased was a Tascam cassette four track recorder.
I actually never used a computer to record music until college. In hindsight, I think that early education on the analog side of things made the transition to digital recording much easier.
It made a lot of sense to me to convert the signal chain from and analog to digital realm, and I highly recommend that up and coming recording professionals gain early experience with analog gear for that reason.
What are you looking for when picking gear for "The Record Shop"?
When choosing gear for the studio, I look for products that can solve a problem or enhance a specific type of recording in a unique way. Even before I had a studio full of gear, I always took that approach when choosing equipment.
If there was a project that would benefit from a piece of gear that I did not have, I would rent it, and if it became in invaluable piece to the final product, it would go on a list to purchase as I could afford to upgrade things.
There are so many products out there to choose from that it can be an overwhelming process to narrow down a decision. When I began to focus on, "What is the one thing that will make the biggest difference on this project?", it helped me to find the best option that would be a smart investment for the studio.
Can you give advice to fellow record producers? How important is diversifying your work in the music business?
I firmly believe in finding a balance between defining your niche and diversifying your opportunities. For me personally, I am fan of a wide range of genres. Last week, I was working with country, hip hop, rock, mariachi, and a choir.
I absolutely love the diversity in our client base. It keeps things interesting and forces me to always be learning and adapting. However, I think this diversity could cause a challenge in focusing on long term direction, if it wasn't for the niche that I developed first.
Over the years, I found a niche in focusing on the artists vision and carefully selecting artists that I could develop long term creative partnerships with. Because my production process is based on a philosophy of artistic discovery, the genre is not a deciding factor for me.
Rather, the personality and goals of the artist become my focus and it opens up opportunities that wouldn't be discovered if my scope was too narrow. I further diversified my opportunity by thinking beyond the record when working with an artist.
I am always focused on what will happen with the recording once it is complete and support my artists in visual content creation, marketing campaigns, publicity, and branding.
After building an amazing team of creatives to support in each of these aspects, I was able to brand The Record Shop as a creative, multimedia production company and that added value has led to long term relationships with our clients. I think it is important to mention that this is the foundation that worked for me.
However, it might not be the path for everyone. I found that I really enjoyed exploring these aspects outside of the studio and I am able to be authentically engaged in a wide range of service offerings.
I believe the key is for each individual to find what their passions are and follow the philosophy of finding a niche first then diversifying what you can offer beyond the base level.
What inspires you and what makes you want to keep doing what you are doing? What are the most important marketing and business lessons you have learned in your experience?
The most inspiring aspect of my job is the reaction that artists have throughout the process. The goosebumps when we are laying down the first run on a tracking session. The tears of joy when an artist hears their vision come to life in the final stages of mixing.
When I learned to live in the moment and recognize the beauty of turning a thought into a piece of art that will last forever, my inspiration tank has always remained full. The other big inspiration is setting and accomplishing short term and long term goals.
This is probably the most important business advice that I've learned. By setting very specific goals, we always have something to work towards. No matter how successful we become, as we set new goals, we have new things to learn and new obstacles to overcome.
With each small win on the path to the end goal, I become more motivated to push forward. These achievements also provide prospective when doubt creeps in. When adversity strikes, I've learned to quickly shift my perspective on "how" to move forward rather than "why" is this happening.
I can use my small achievements as motivation to see how far I've come and recognize that anything the mind can conceive, our actions can achieve. This is a mindset that always needs to be exercised.
There are still times where I lose perspective and get stuck in doubt, but over the years, I've learned to lift myself out of that place quicker every time it happens.
Do you have any specific tool for productivity that keeps you on track at all times?
The most valuable tool I use to stay on track with this philosophy is my calendar. I schedule every hour of every day whether I have sessions or not. If I am not in the studio, then I go to a list of actions that will push my towards my goals, and those time slots get filled in.
I review my schedule for the week every Sunday. Every night after the tasks for the day are complete, I finish my day by reviewing the plan for the following day.  When I share this process with up and coming engineers, I often get some push back that this level of organization could halt creativity.
However, I believe that having intense focus on our goals, only frees up our minds to be more creative. If we are always worried about what to do next and unsure of our priorities, our mind is focused on solving that problem rather than being open to creative inspiration.
As William Faulkner said: "I only write when I am inspired. Fortunately I am inspired every day at nine o'clock." 
Being in the center of this creative universe that you have created for yourself and others…what is the most satisfying aspect for you?
The most satisfying aspect of my job is seeing the joy that artists have when I project is completed, and then seeing the impact that it has on the listeners. I read a quote early on in my career that became the foundation for my work.
William James said, "The best use of life is to use it for something that will outlast it" I apply those words to the focus of every step of the creative process, and am grateful to have the opportunity to create something new every day!
What was the first Antelope product that you have tried and what feature made the biggest impression on you?
The first Antelope product I used was the Master Clock. This was early on in my career and I had not had a lot of experience with a range of different clocks, but it was instantly apparent that something was significantly more enhanced when I had that first experience.
That solidified my understanding of the superior sonic quality of Antelope products. A few years ago, I was introduced to the new line of Antelope converters and audio interfaces. After experimenting with the Orion 32+ and Goliath HD, my respect for the attention to detail and reliability of Antelope products was even more enhanced!
How does the Orion 32+ Gen 3 and MP32 combination benefit you the most? What's the biggest event you have tracked with the Orion 32+ Gen 3 and MP32?
The combo of the Orion 32+ Gen 3 and MP32 has been invaluable for us with remote recording. We have done projects in traditional venues, churches, a brewery, and even a barn using this set up.
We also have a plans to do a performance series on a boat on the lake this summer. The versatility is endless. Before this set up, we had several racks of gear that made some locations a major challenge.
Now, we can literally go anywhere with a 32 channel recording studio. The biggest event we've tracked so far was a Choir festival in Nashville. We recorded around 15 different choirs over the course of the day and completed the day with a recording of the entire group of choirs together.
This system made it easy to move around to various locations efficiently and have a variety of setups ready to go for the range of performances that were done.
What are your thoughts on the "jack of all trades" audio interfaces that are good in whatever scenario you put them in?
I believe that equipment selection is very much a mater of preference. I look at each piece of gear as an individual tool in the box.
When it comes to an interface that is used for audio conversion, if that piece has a sound that the engineer loves, then it can definitely be used in range of scenarios.
In regards to interfaces that also include on board pre amps, I believe that the diversity of having the option for different colors with outboard equipment is still a big advantage. The Orion 32+ Gen 3 is a jack of all trades for us as an interface because of the versatility of the routing matrix.
It allow us to us it in the studio as well as on location for traditional recording session, concert recording, and on location recording.
What are your favorite features of the Orion 32+ Gen 32?
My favorite features are the low latency and the routing matrix. In live streaming scenarios, it has become much easier to get the audio and video in sync and make adjustments on the fly in a non traditional location where we need the interface for recording, monitoring and streaming.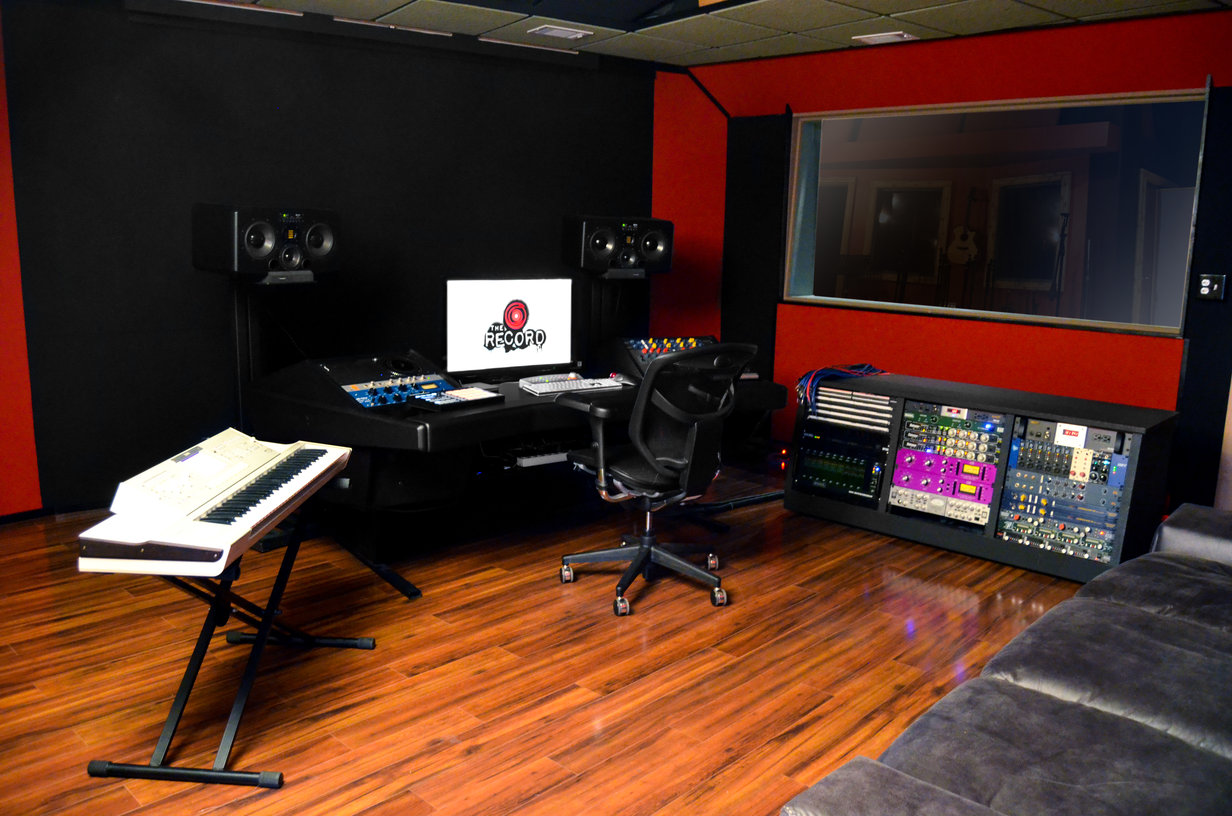 Where can we find you?