INDUSTRY-LEADING AD/DA
With its phenomenal 136dB of dynamic range (measured at Monitor Outputs), Orion 32HD | Gen 3 offers the industry's finest AD/DA conversion.
LOW LATENCY OVER HDX
With HD, HDX & HD Native connectivity, Orion 32HD | Gen 3 achieves low latency and compatibility with HD systems.
FLAWLESS CLOCKING
Hear the true sound of music with Antelope Audio's next-generation 64-bit Acoustically Focused Clocking technology & jitter management algorithm.
REAL-TIME EFFECTS
A rich collection of circuit-level gear emulations, running in real-time on an integrated FPGA FX platform.
FLEXIBLE WORKFLOW
Use the Orion 32HD | Gen 3's intuitive software control panel from multiple computers connected over the same network.
EXTENSIVE CONNECTIVITY
Stream 64 channels of hi-res audio over HDX or USB 3.0; connect digitally over MADI, ADAT, and S/PDIF.
FORGET ABOUT LATENCY
Compatible with any DAW via HDX or USB 3.0, this new Pro Tools HD and Native-ready interface represents everything Antelope Audio stands for. Zero-latency monitoring, streaming of 64-channel 24-bit/192 kHz audio, flawless clocking, pristine AD/DA conversion, extensive connectivity, and more.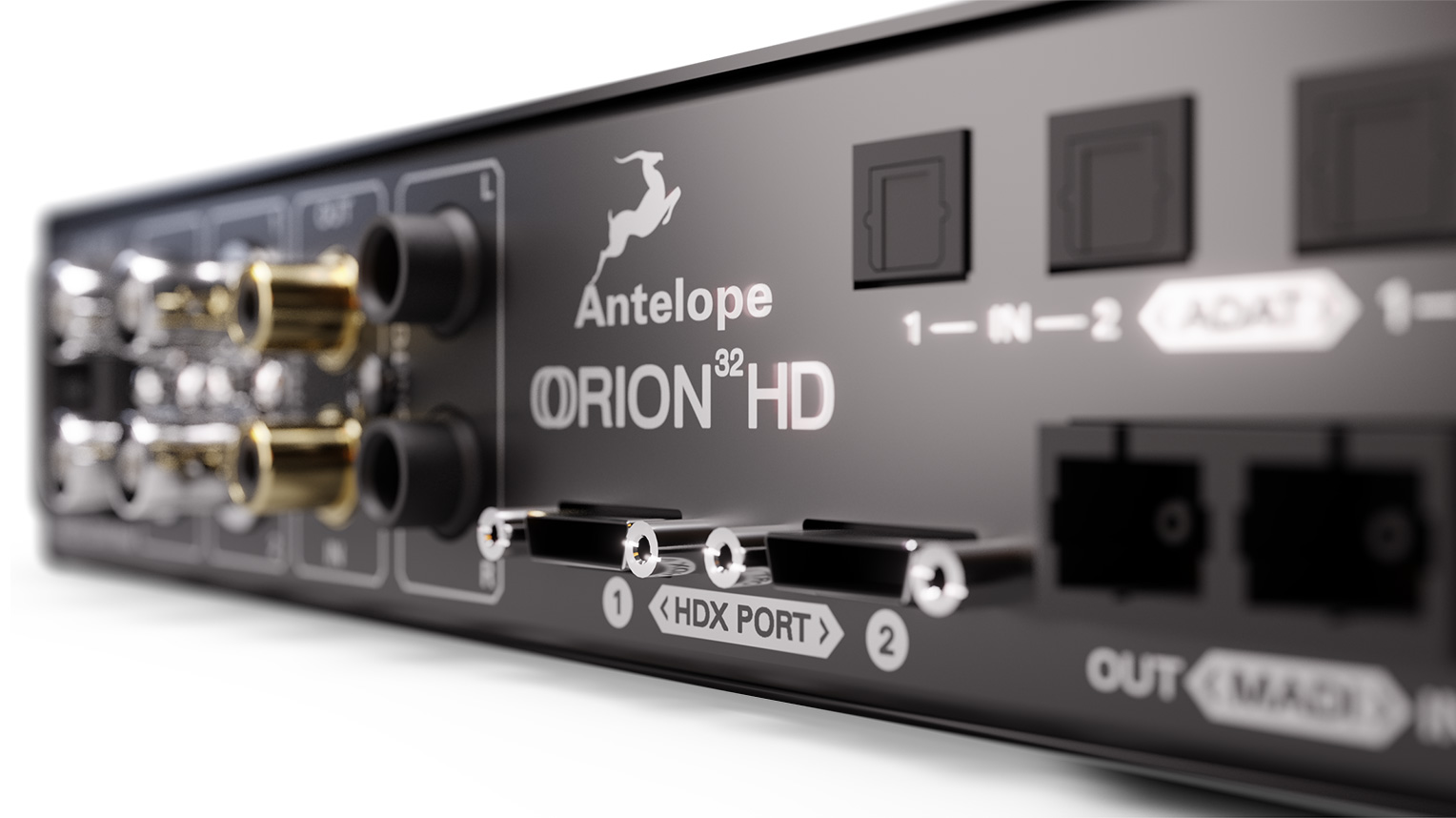 d/A converter
Dynamic Range
129 dB
THD + N: -120 dB
d/a monitor converter
Dynamic Range
136 dB
THD + N: -120 dB
A/D converter
Dynamic Range
124 dB
THD + N: -112 dB
streamlined workflow
Like its predecessors, Orion 32 HD | Gen 3 is a versatile audio interface, which works like a charm with any DAW on the market. It enables you not only to stream an astounding 64 channels of audio when tracking, but also allows for multiple monitor mixes. When monitoring, the sound is pleasing, transparent, detailed and natural. Independent software mixers, integrated hardware-based FPGA vintage effects - it's all there, with more connectivity options than ever.

PERFECT SOUND
THROUGH
FLAWLESS CLOCKING
The unbeatable clocking accuracy of Orion 32 HD | Gen 3 is provided by Antelope's renowned 64-bit Acoustically Focused Clocking (AFC) jitter management technology. Antelope Audio clocking has decades-long reputation for excellence in both stability and sonic improvement. Transients will shine like never before and you'll achieve a stereo image with incomparable depth and detail. And that crystal clear high-end… yes, we're talking sonic perfection!

real-time vintage FX
Orion 32HD | Gen 3 comes with a massive collection of real-time effects taken from the vast Antelope Audio FPGA FX library. It goes beyond the essentials. Everything you need to accomplish Recording, Mixing and Mastering is included.

intuitive software control
Orion 32HD | Gen 3 offers extensive flexibility for excellent productivity. A color-coded software routing matrix with four separate mixers, effects chaining, and zero latency monitoring is provided. The routing matrix, mixers, and control panel are found within an intuitive desktop application for macOS and Windows.

Specifications
ANALOG
Analog Inputs
4 x D-SUB 25
(32 channels total),
+24 dBu max, 11.2 kOhms

Analog Outputs
4 x DB25
(32 channels total),
+24dBu, 56 Ohms
2 x Monitor Outs
on TRS 1/4 Jacks

D/A Monitor Converter
Dynamic Range: 136 dB
THD + N: -112 dB

A/D Converter
Dynamic Range: 124dB
THD + N: -112 dB

D/A Converters
Dynamic Range: 129 dB
THD + N: -120 dB

DIGITAL
Digital Inputs
1 x Fiber Optic MADI (up to 64 channels)
2 x ADAT
(up to 16 channels in total)
1 x S/PDIF

Digital Outputs
1 x Fiber Optic MADI (up to 64 channels)
2 x ADAT
(up to 16 channels in total)
1 x S/PDIF

USB I/O
USB 3.0 – 64 channels I/O up to 192kHz,
USB 3.0 Type B connector

HDX
2 x mini HDX connectors for direct Pro Tools connection
32 channels I/O each
(total of 64 channels)

CLOCKING
Word Clock Input 1 x Input @ 75 Ohms 3Vpp
on BNC 32 – 192kHz

Word Clock Outputs
2 x Outputs @ 75 Ohms 3Vpp on BNC 32 – 192kHz

Atomic Clock Input
1 x 10M Input @ 75 Ohms 1Vpp
on BNC

Clocking System
4th Generation Acoustically Focused Clocking
64-bit DDS
Oven Controlled Crystal Oscillator

Clock Stability
<+/-0.02 ppm, oven controlled at 64.5ºC/ 148.1ºF

Clock Aging
< 1 ppm per year

Clock Calibration
< +/-0.001 ppm

Sample Rates (kHz)
32, 44.1, 48, 88.2, 96, 176.4, 192
OTHER
Operating Temperature
0-50°C, 32-122°F

Weight (Approx)
3.6kg / 8.0 lb ( approx )

Dimensions (Approx)
Width: 483 mm / 19"
Height: 44 mm / 1.75"
Depth: 270mm / 10.63"

Electrical specs
AC Universal input: ~95-245 V
Power Consumption: 20 Watts Max

In the box
Orion 32HD | Gen 3
Warranty Card
Power cable
USB cable