Goliath
Thunderbolt ™, USB & MADI Audio Interface
The most powerful audio interface on the market
Offering the biggest number of I/O's available on the market, Goliath is the result of Antelope's 20+ years of experience in digital audio, innovative clocking technologies and analog circuit design.
Connectable via blazing-fast Thunderbolt™, USB & 2 x MADI, Goliath houses a total of 36 analog ins and 32 analog outs, providing digital clarity and analog realism like no other audio interface out there.
Antelope's most powerful audio interface comes with an array of hardware-based audio effects, among which vintage guitar amps & cabs, AuraVerb reverb, legendary EQ and compressor emulations, plus our world-renowned Acoustically Focused Clocking technology.
"

…it's tough to find an audio interface that offers this much connectivity and the sheer number of inputs and outputs of the Goliath"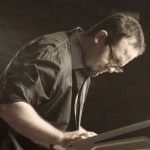 Matt Vanacoro, one of New York's premier musicians, he has collaborated as a keyboardist in studio and on stage with artists such as Jordan Rudess (Dream Theater), Mark Wood (Trans-Siberian Orchestra), Mark Rivera (Billy Joel Band), Aaron Carter and many more.
16 MIC PRES
16 Class-A Mic preamps. Hi-Z, Mic & Line ins
ZERO LATENCY
64 channels I/O simultaneous streaming, multiple mixers and effects processing
PRO GUITAR EFFECTS
Hardware-based effects for next level guitar amp modeling
PRISTINE AD/DA
24-bit, 192 kHz audio and Antelope Audio's signature pristine conversion
64-BIT ACOUSTICALLY FOCUSED CLOCKING
4th Generation Antelope Audio jitter management technology
CONVENIENT CONTROL
Intuitive desktop and mobile apps and front panel touch screen
THE SOUND YOU HAVE ALWAYS DREAMED OF
Flawless clocking and unique analog circuitry brings pro sound to a new level.
At Antelope Audio we love to say that best clock = best sound.
So, no surprise that our 4th generation of Acoustically Focused Clocking jitter management algorithms (AFC) is in charge of Goliath's flawless clocking. The audio interface features the oven-controlled crystal oscillator you know from Antelope's signature crystal-based master clocks.
For optimum detail and sound stage, Goliath can be additionally synced to the extremely accurate Rubidium Atomic Clock – 10MX, and it can also be used as a master clock for two other devices via Word Clock Outs on BNC.
Process multiple zero latency mixes
Get crazy creative with Goliath's custom hardware-based effects
Antelope's new RealModel technology recreate not only the true sound of classic analog gear but its behavior and feel as well. Stacks of effects can be combined in custom FX Chains and saved as Presets.
All our guitar amp and cabs simulations were developed in a partnership with leaders in guitar software Overloud Audio Tools, so we know guitar players will just love Goliath.
64 channels via Thunderbolt™
can be routed to a vast selection of digital and Analog I/O options, including MADI, AES, ADAT, and S/PDIF.
Goliath offers 36 Analog Inputs and 32 Analog Outputs with pristine AD/DA converters. These include 4 superb Instrument DI's, 2 transformer Reamp Outs, 2 Headphone Outs with integrated Talkback on the front, 16-Channels of Class-A Mic Preamps, 2 sets of Stereo Inserts and a pair of mastering grade Monitor Outs on the back.
The DB25 connectors feature 24 Outputs (1-8 can be level controlled for Surround Sound Mixing) and 16 additional Line Inputs, making Goliath an attractive solution for Hardware Inserts and Summing.
Even more Analog I/O Channels can be added by connecting Antelope's Orion32 or Orion32+ via MADI for a total of 64 Channels of Analog I/O simultaneously.
TOUCH & CONTROL
Reinvent your studio experience with Goliath's advanced control options.
All Goliath functions are accessible via its intuitive, high-resolution touch screen. All features of the audio interface can be also accessed via the OS X and Windows compatible Software Control Panel. Just like all new breed Antelope Audio devices. the Goliath follows our networking control concept. This means you can now access all Goliath features from multiple computers in the same network.
Control your beast
Have no fear, this beast is kept well under control.
We have prepared a Remote Control App for Android and Apple users. So now you can take your recording experience further.
*Compatiblity support for current and future iOS and Android versions has been suspended. Please revert to older iOS and Android versions for full compatibility
ANALOG

Analog Inputs
16 x Line inputs on two D-SUB 25, +20 dBu max, 11.2 kOhms
16 x Mic / Line universal inputs on XLR combos on the rear (first 4 can be used for instruments also)
4 x Instrument (HiZ) inputs on TRS 1/4 jacks on front
Analog Inserts
2 x Inserts on TRS 1/4 jacks (dedicated to rear universal inputs 1, 2)
Analog Outputs
24 x Line outs on three D-SUB 25, +20dBu, 56 Ohms
1 x Monitor out on 2x TRS 1/4 jacks
2 x Stereo Headphone outs on TRS
2 x ReAmp outs on TRS
D/A Monitor Converter
Dynamic Range: 127 dB
THD + N: -108 dB
D/A Converter
Dynamic Range: 120 dB
THD + N: -107 dB
A/D Converter
Dynamic Range: 120 dB
THD + N: -110 dB
Mic Preamp
Gain: 0, 10 – 65 dB
THD + N: -108 dB
DIGITAL

Digital Inputs
2 x Fiber Optic MADI (up to 64CH each)
2 x ADAT (up to 16CH)
8 x AES/EBU on D-SUB 25 (16CH)
1 x S/PDIF
Digital Outputs
2 x Fiber Optic MADI (up to 64CH each)
2 x ADAT (up to 16CH)
8 x AES/EBU on D-SUB 25 (16CH)
1 x S/PDIF
USB I/O
USB 2.0 Hi-Speed;
Data stream up to 480 Mbits/192kHz, 32 channels I/O, Type B
Thunderbolt™ I/O
1 x Thunderbolt™, 64 channels I/O
CLOCKING

Word Clock Input
1 x Input @ 75 Ohms 3Vpp on BNC 32 – 192kHz
Word Clock Outputs
2 x Outputs @ 75 Ohms 3Vpp on BNC 32 – 192kHz
Thunderbolt
Atomic Clock Input
1 x 10M Input @ 75 Ohms 1Vpp on BNC
Clocking System
4th Generation Acoustically Focused Clocking
64-bit DDS
Oven Controlled Crystal Oscillator
Clocking Stability
<+/-0.02 ppm, oven controlled at 64.5°C/ 148.1°F
Clock Aging
<1 ppm per year
Clock Calibration
<+/-0.001 ppm
Sample Rates
32, 44.1, 48, 88.2, 96, 176.4, 192 (kHz)
OTHER

Operating Temperature
0-50°C/32-122°F
Weight
6.8 kg/ 15 lbs (approx)
Dimensions (Approx.)
Width: 48 3mm / 19"
Height: 81 mm / 3.2"
Depth: 279 mm / 11"
Electrical specs
AC Universal input: ~95-245 V
Power Consumption: 40 Watts Max
In the box
Goliath – ThunderboltTM and USB AD/DA Interface
Owner's Manual
Warranty Card
1 AEC Power cable
1 USB cable
Additional Info: Internet connection required for product activation.