The Orion 32+ | Gen 3 takes the prize for Best Interface in Resolution Magazine
For the forth consecutive year, the readers of the popular Resolution Magazine have cast their votes for quality, innovation, and creativity in audio design. In this year's edition, the Orion 32+ | Gen 3 was not only nominated but also awarded in the Best Interface category. This is a superb achievement for the product as it is judged to be outstanding for its quality by one of the best-informed readerships in the industry. This also marks a "three-peat" of consecutive prizes for Antelope Audio. In the recent history of the Resolution Awards, Antelope Audio has won the Best Interface (A-D/D-A) for three years in a row. We won in 2017 with Orion 32 HD, in 2018 with Discrete 8 and now in 2019 with Orion 32+ | Gen 3.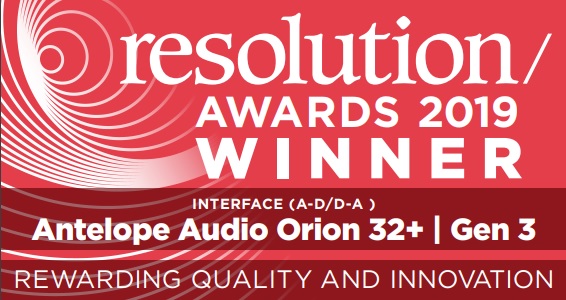 The Best Interface – Orion 32+ | Gen 3
It is a combination of impressive features that makes the Orion 32+ | Gen 3 a fan-favorite among the readers of Resolution Magazine. It provides connectivity suitable for setups with plenty of gear with its 64 channels I/O of up to 192 kHz using Thunderbolt. The stereo monitor outputs hold up to 129dB dynamic range so that no detail in the sound will be lost. Clocking without imperfections is achieved thanks to the 64-bit Acoustically Focused Clocking technology & jitter management algorithm that are implanted in the interface. For minimum possible latency the Thunderbolt drivers will outperform other options thus helping the music-making process be as smooth as you could ever desire it. Combine this with pristine sound quality and it seems it was more than enough to impress Resolution Magazine's readers, as the device is taking home the prize for Best Interface.
Among fans of the audio interface is 2x Grammy award-winning mixer-producer-engineer Cameron Craig as well as techno DJ titan and music producer Chris Liebing. We suspect that they might have cast their votes for the Orion 32+ | Gen 3 too!

The winner – Orion 32+ | Gen 3
About Resolution Magazine
The renowned magazine is celebrated for informing broad audiences about the ins and outs of the recording, post-production, mastering, and multimedia audio production processes. The magazine strives to educate its readers by demystifying and placing in context the developments that are shaping the industry. Fans of Resolution Magazine appreciate quality and innovation and the winners in all categories get our compliments. A full list of all the winners can be found here.