What is AFX2DAW and How

 

C

an

 it

 Improve 

Y

our Workflow?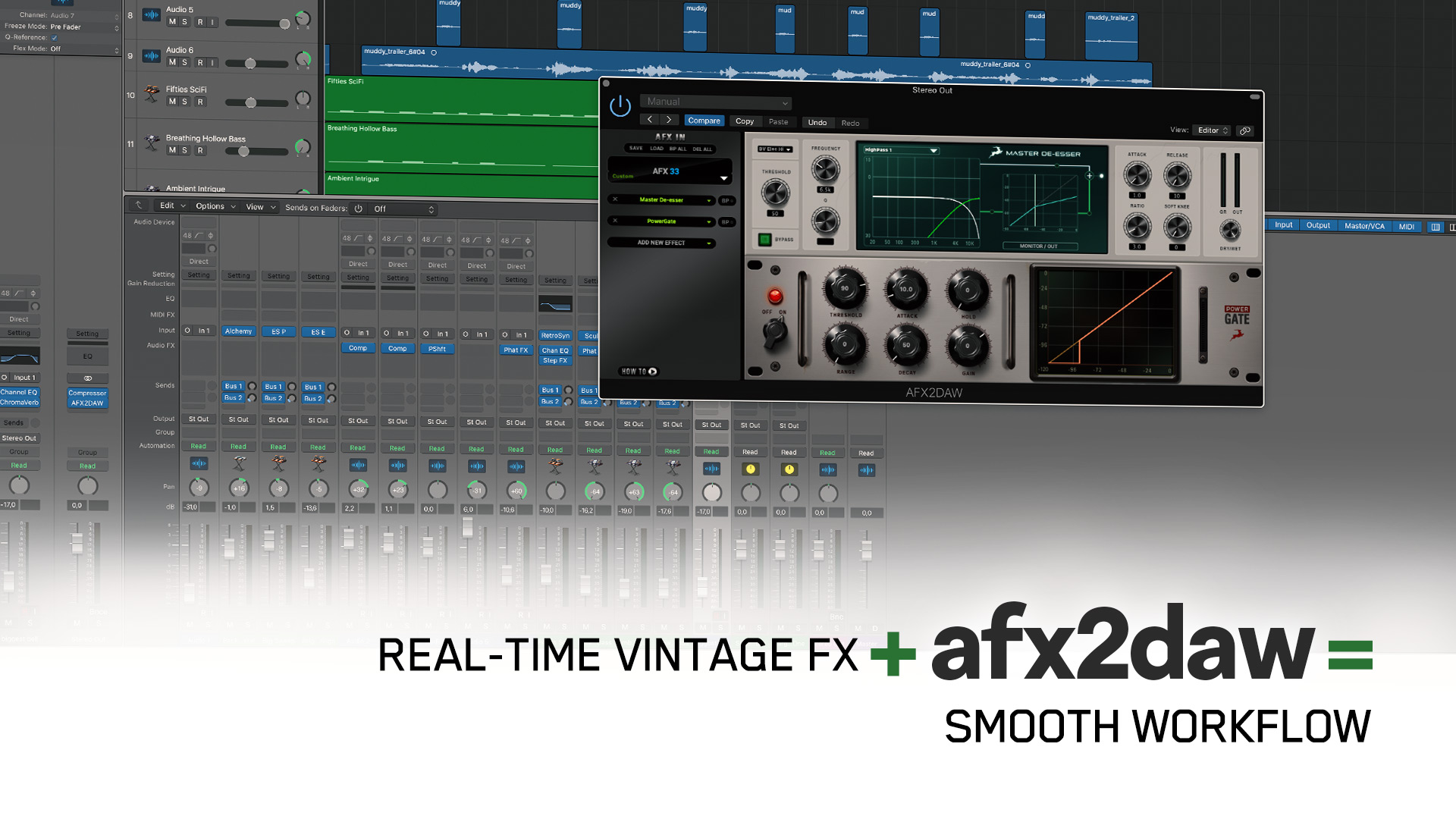 The AFX2DAW is a software plugin developed by Antelope Audio that allows the hardware-based, real-time effects inside your device to be used as native plugins within your DAW software. This means that AFX2DAW adds one more option to your music production workflow – the ability to use the effects when mixing your tracks without the need to do complicated routing. In this way, you have the option to track with effects while monitoring in real-time at near-zero latency, then move to your DAW and start mixing with them without interrupting your flow.
If you want to have maximum flexibility when working on your tracks in your DAW, then the AFX2DAW makes a world of difference. The software does not take resources from your computer's CPU to process the plugins or any I/O audio stream. It will use the audio interface's engine to process everything, except the visual of the plugin, thus ensuring you will have one less aspect to think about when dealing with latency in your DAW session.
The AFX2DAW Workflow
Once the AFX2DAW is correctly assigned to your audio interface you can launch your DAW the plugin can be used on both mono or stereo channels, with the convenience of a native plugin workflow. You will be able to insert the effect by opening it in your DAW just like any VST or AAX FX, and then save it in your session by creating your own presets. Use presets to quickly get ideas down, so next time you want to use the same combination you won't have to design it from scratch. This will save you time and keep you focused on writing new progressions.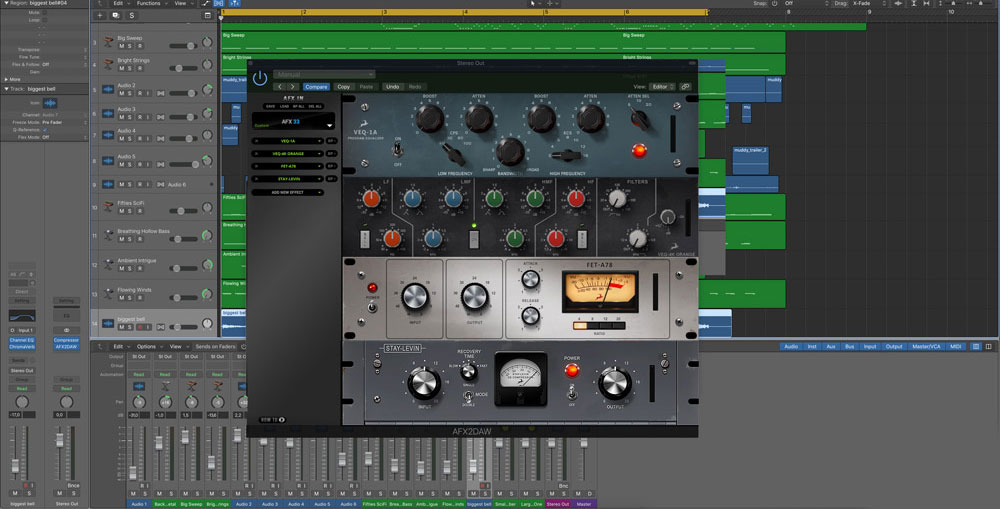 While the Control Panel makes direct monitoring with effects easier, there's no better way to mix with your effects than with AFX2DAW. The software bridge allows you to use automation, just like you would with your other native effects. Automate the controls of a plugin so you won't have to set the knobs in real-time, every time. This allows you to switch effects on and off during the session or automatically change the settings of an effect. The potential uses of automating plugins are plenty – use De-Essing to kill the harshness in a particular part of the vocals in the song, or alter the EQ parameters in the chorus of your track. Automation with AFX2DAW makes your work more fluent.
Keep in mind that the plugin will work only when the Antelope Control Panel is open. In the following table, you can see the potential maximum FX instances in your DAW project when using the AFX2DAW. The final number, however, will depend on the type of effect and its processing load.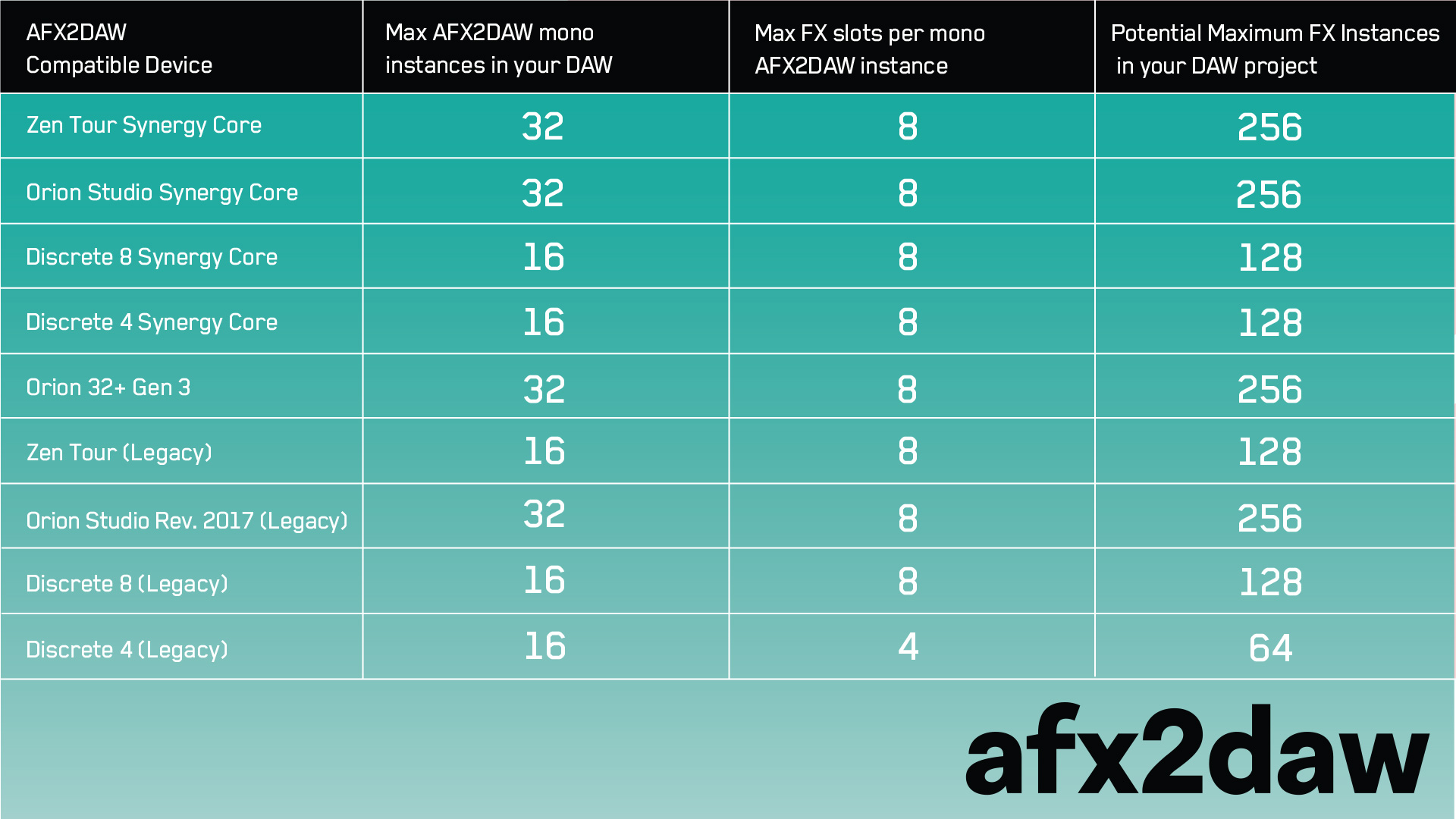 Who can use the AFX2DAW?
The AFX2DAW is currently available for Thunderbolt™ on macOS and we are working on releasing it for Windows users. The software plugin is available to users of the following devices: