An Entire Digital Studio On The Go
Meet the Zen Tour Synergy Core Audio Interface
From your band's practice space to the recording studio thеn straight to the live stage. The new Zen Tour Synergy Core is with you every step of the way. Small enough to fit in a backpack but powerful enough to rival pro rack-mount studio gear. Recording music in high-quality doesn't require massive premium devices any longer. Touring musicians who want to have all the options on the road, freelance engineers constantly moving from one studio to another, producers searching for a flexible device for recording and mixing, and small studio owners looking to make the leap to pro audio have all trusted the original Zen Tour. Being the next upgraded product in line to join the Synergy Core range, the new cross-platform audio interface is the beneficiary of unparalleled processing power.
What can you achieve with the Zen Tour Synergy Core?
With Synergy Core on board you can record with FX and monitor in real-time while placing zero load on your CPU. The combination of the 4xDSP and 2xFPGA chips in the Synergy Core processing module is capable of handling up to 256 FX per session with imperceptible latency. This truly efficient FX processing method helps reduce buffer size and improve your recording system's stability. With DSP chips in the new Zen Tour, the interface is no longer running only FPGA Antelope-built FX but also 3rd party FX like the Auto-Tune Synergy, with more currently in development. The flexible Antelope control panel is not only designed for mixing but for recording and monitoring of live performances. If you prefer a mixing approach similar to using Native plugins in the DAW, you have the Thunderbolt connection that allows the AFX2DAW to directly access the DAW and recall the different effects.
The 36 premier FX in the growing library of the Zen Tour Synergy Core can get you up and running immediately. Included are 2 preamp models, 4 equalizers, 5 compressors, 22 guitar amps & cabs, 2 special processing FX, and AuraVerb reverb. See the entire collection of studio gear emulations that this desktop device offers here.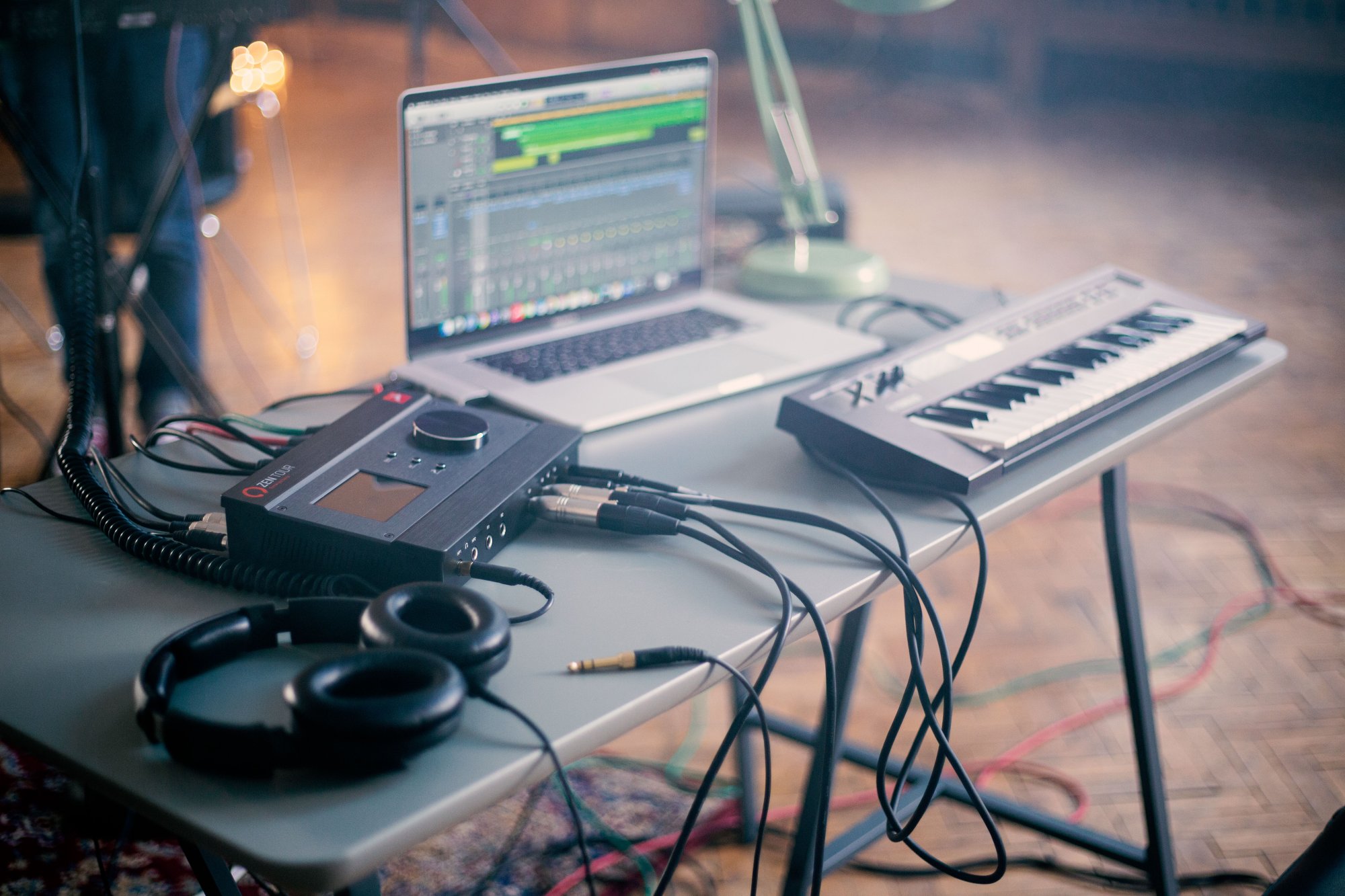 Nothing beats the sound recorded with the right microphone and the best-in-class mic preamps. Simply plug in your instruments and take advantage of the discrete transistor ultra-linear preamps offering ultra-low noise and distortion while achieving the desired sound without adding unnecessary color and providing balanced transient response. Your dynamic mics for live performance can benefit from the high gain of 65 dB on the mic pres. The unrivaled Antelope clocking is another reason for the device to impress with respect to clarity and neutrality.
For times when you want to connect an already recorded guitar signal to a guitar amplifier or a guitar foot pedal, you have the Reamp outputs. Providing the correct impedance level, they also turn the signal from balanced to unbalanced as if it's a real guitar output. If you feel like it, record your instrument clean but modify and listen to it with hardware-based Synergy Core effects, modeled after classic guitar cabinets and amps.
"As a producer, I travel a lot and I need to be able to set up a recording studio everywhere I go. Zen Tour has been fundamental in this, giving me freedom and quality. With its top-quality effects, it helps me provide the perfect sound for my recordings right off the bat.

Kay Be, Producer
Transmit signal to as much as eight mono synths simultaneously using the 8 line outputs on the DC-coupled DB25 connector – always ready for your geeky control voltage (CV) needs, such as control of modular synthesizers. If you don't need the 8 line outputs for CV applications you can always use them to connect the Zen Tour Synergy Core with a small summing mixer for analog summing. Connect your speakers to the monitor out with a dedicated DAC and listen to the real sound. The benefit of the 130 dB dynamic range of its converter is a guaranteed wide and deep sound.
With Mac and Windows compatibility, users with multiple computers and operating systems can switch the USB and Thunderbolt connections on the fly. Other connections include S/PDIF for stereo ins and outs, ADAT I/O to expand your channel count and two individual stereo headphone outputs to monitor with or without effects.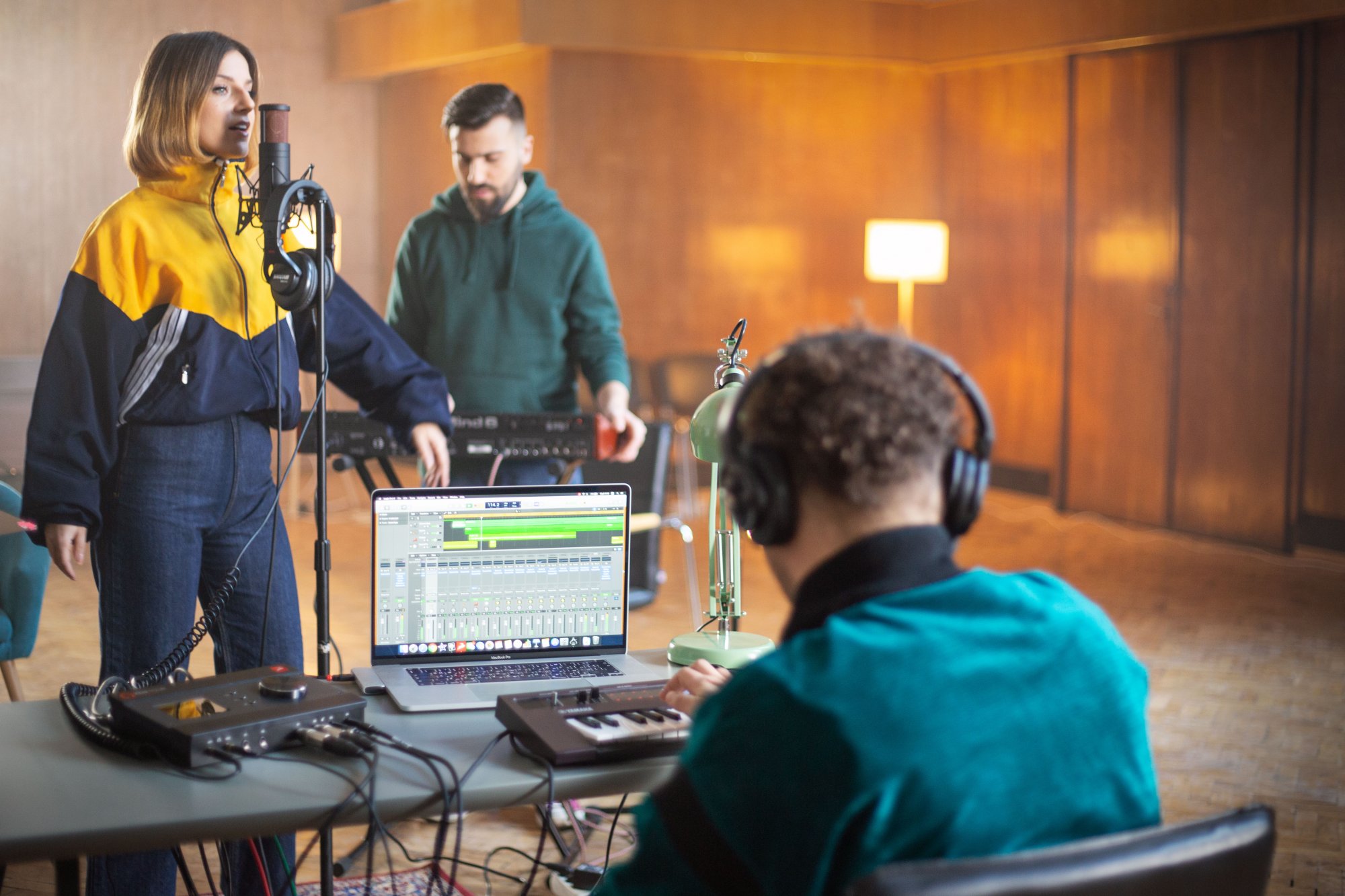 About Dorothy 
Takev
Dorothy Takev is an artist, singer-songwriter. She's a triple threat as they say – her sound is global, forward thinking, alternative pop with a touch of her balkan roots and an R'n'B influence. Her lyrics provide wry, thought-provoking messages. With a visual EP and a collaborative album behind her, it's time for her first long-playing record. New album "Siren" is on its way and we can't wait to hear it! 
Hear her new single "Dolla$ " here and catch up with her on Instagram, Facebook and Youtube. Follow Kay Be on Instagram.