Zen Tour Synergy Core – 

Features and Workflow with Producer Danny

 

Trachtenberg
Welcoming us to his cozy studio in North London is recording engineer and producer Danny Trachtenberg. Taking a little time off from his Orion Studio Synergy Core, he makes his return to showcase the capabilities of the new Zen Tour Synergy Core portable audio interface. Storing immense power and enough connectivity options to cover the needs of a small band, the latest addition to the Synergy Core range is in the capable hands of one of the UK music scene's finest. Watch Danny Trachtenberg take us on a tour of the interface – outlining all the connectivity options and his recording and production workflow with the device. 
F
irst Look
The I/O options are plentiful for an interface of this size. We start with the four discrete transistor ultra-linear preamps with Combo XLR jacks enabling you to record your acoustic instruments, vocals or line-level instruments. The desired sound is achieved without unnecessary coloration and balanced transient response, while benefiting from the familiar Antelope sound. On the front of the interface there are 4 line and Hi-Z inputs so you can record even more instruments with ultra-low noise and distortion. The front side of the interface is completed by two individual stereo headphone outputs and two reamp outs so you can take a guitar signal outside the interface for further amp processing.
Monitor your recordings in real time, clean or processed with Antelope DSP FX, through the monitor outputs that are backed by a dedicated converter with 130 dB of headroom for deep and wide sound. Transmit CV signal to as many as eight mono synths simultaneously using the 8 line outputs on the DB25 connector. All line outputs are DC-Coupled and support CV applications such as control of modular synthesizers.
Switch between USB and Thunderbolt connections on the fly, in case you move your audio interface to another studio, while staying compatible with both Mac and Windows operating systems. Other digital connections include S/PDIF for stereo ins and outs and ADAT I/O to expand your channel count.
Danny completes the tour of the Zen Tour Synergy Core with the monitor control knob, the multifunctional Antelope button, the gain and headphone mix buttons. The touchscreen gives you access to a whole range of different metering across your ins, outs, mix and submixes. Nothing is complete without a talkback microphone allowing you to propel your voice to the live room. For longevity, each Zen Tour Synergy Core sports a sleek road-ready machined aluminum body so that Danny can take his interface anywhere he goes.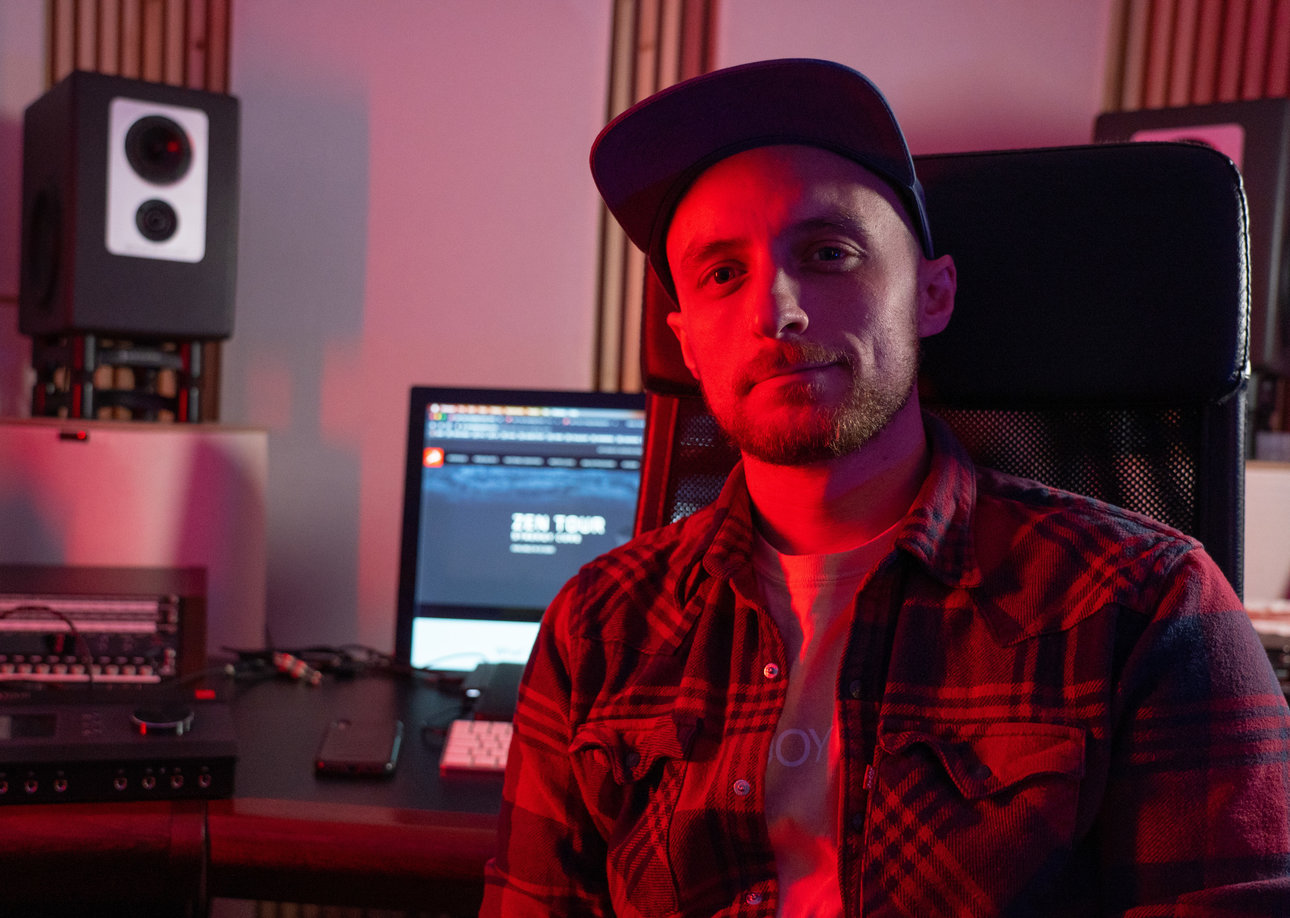 Workflow with the Zen Tour Synergy Core 
Once familiar with the I/O it's time to move to the workflow possibilities. It all starts with the control panel, serving as a digital console, where all the magic happens – from routing to loading effects and setting up mixes. The color-coded routing matrix will have you routing any sound to any source while saving precious time. Run DAW playback channels through effects, reamp guitar DIs through the guitar amps and cabs, integrate external compressors – the flexibility of the matrix is immense.
The processing power of the interface is courtesy of a 4x DSP and 2x FPGA Synergy Core that is loaded with 36 free effects to get you started with your production efforts. Record with an effect modeled after vintage solid-state parametric EQ and explore mythical New York- born compression in your mix. Experiment with your sound in real-time by monitoring with imperceptible latency while listening to your already processed signal. The Zen Tour Synergy Core is easily upgradable – outside of the 36 effects provided with the interface you can find more options in the expandable library of the interface that grows with a variety of new effects emulating classic analog units, the latest one being Auto-Tune Synergy. 
Another possibility during your recording session is to track both dry and wet through all 8 analog inputs. Watch Danny record while processing with the Tubechild670 compressor, the Adaptive Vibrato and the Reel-to-Reel tape machine. Adding the final touches of a record, you can see Danny apply effects on the master bus of "Submission Station" – a not yet released single by artist CJ Mirra. Watch another use of the interface – from the practice space to the live stage here.  
About Danny Trachtenberg
Daniel Trachtenberg is a recording and mixing engineer based in London, UK. His work spans music, film and advertising, and his clients include George Ezra, Octavian, Stormzy, Plan B, CJ Mirra. and Jorja Smith. He has also worked as an Audio Production lecturer at SAE Institute and recording studio engineer at Red Bull Studio. Reach out to him at LinkedIn and Instagram. Watch another video with Danny Trachtenberg here. 
Pre-order the new Zen Tour Synergy Core audio interface until the 30
th
 April and get five premium 
plugins
 as a bonus.